I am very excited to announce the Cinemax (HBO's sister company) has optioned the television rights to "The Skin Trade," the offbeat "werewolf noir" novella I penned back in the late 80s. The deal is closed, and Cinemax has ordered the pilot script. This being Hollywood, of course, you never know where things will end… but if they like the script, we'll shoot a pilot, and if they like that, hey, who knows, maybe we'll get a series on the air.
Which would be very cool. I have always thought there was a TV series (or maybe a feature film) in Willie Flambeaux and Randi Wade. Those of you who know the story of DOORWAYS, my ill-fated ABC pilot from the early 90s, may even recall that it was SKIN TRADE that I was actually trying to sell back in 1991, when I flew out to LA for a round of pitch meetings. So we're a few decades late…
"The Skin Trade" has had a storied, and complex, publishing history. It was originally written for NIGHT VISION 5, the fifth volume of the prestigious annual horror anthology from the late lamented small press Dark Harvest, where it appeared together with original contributions from Dan Simmons and Stephen King, some stellar company. The novella was very well received, and went on to win that year's World Fantasy Award.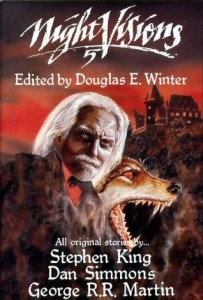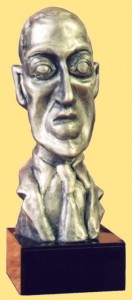 It was subsequently reprinted several times, most recently (and notably) in an illustrated edition from Capclave, where I was Guest of Honor, with a cover and interior art by the amazing Rick Berry.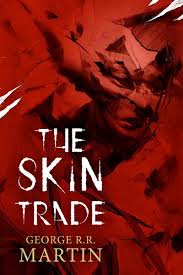 There's also been a comic book miniseries and graphic novel from Avatar. Daniel Abraham did the adaptation and script, while Mike Wolfer provided the art.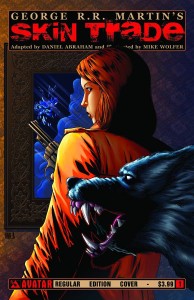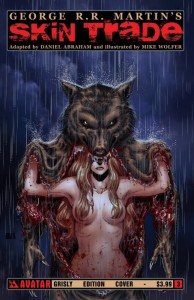 More recently, the novella was purchased by Mike the Pike Productions, who played a big part in taking the project to Cinemax. To handle the adaptation, script the pilot, and produce the show (should we get a greenlight), we've tapped a terrific talented young scriptwriter named KALINDA VAZQUEZ, whose previous credits include work on PRISON BREAK and ONCE UPON A TIME. That was not an easy choice. Cinemax and my agents set me up for meetings with close to a dozen different Tv writers, many of them very impressive, but Kalinda's take on the story and the characters blew me away. She loves the story and the world, and really seems to get Willie and Randi, and her pitch to Cinemax was one of the most polished and professional I've ever heard. I love her enthusiasm, and look forward to working with her.
(And no, while I would have loved to write the script and run the show myself myself, that was never really in the cards. I have this book to finish. You know the one).
So… THE SKIN TRADE… coming to your TV set, er, eventually. Maybe. Howl for it.