Cool news from both sides of the Atlantic.
The new illustrated hardcover of A KNIGHT OF THE SEVEN KINGDOMS has debuted on the NEW YORK TIMES bestseller list as #2 in hardcover fiction. Over in the UK, the British edition has landed as #3 on the TIMES list (Bernard Cornwell's new Uhtred novel is number 1, of course).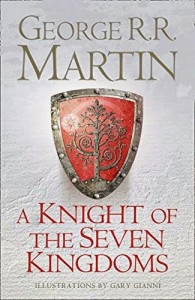 Pretty good for a collection of three previously published novellas.
My thanks go out to all my friends at Bantam Spectra and Harper Voyager… and of course to Gary Gianni, whose gorgeous artwork helped make the book such a rousing success.