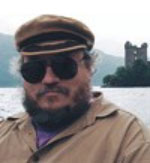 When I'm not writing, you can often find me reading.   I've been a voracious reader since grade school… and I love talking about books almost as much as I love reading them.   So when a British fellow named Reginald asked me to come on his podcast to discuss one of my favorite books, I was pleased to agree.   The hard part was picking a book.   I have a lot of favorite books, and favorite authors.   Tolkien, Heinlein, Lovecraft, Waldrop, Fitzgerald, Dickens, Bernard Cornwell, Stephen King, Jack Vance… the list goes on and on and on.
We could only do one, however.  So I finally settled on Roger Zelazny.
Ah, but WHICH Zelazny, though?  Roger wrote so many great ones.   LORD OF LIGHT, EYE OF CAT, CREATURES OF LIGHT AND DARKNESS, DREAM MASTER, DOORWAYS IN THE SAND… and the short stories, he was great at shorter lengths as well… as his shelf of Hugo and Nebula Awards bears witness.
Hard choice.  In the end I went with NINE PRINCES IN AMBER… and the Amber series in general.   (Soon to be a TV series, we hope).
We filmed the segment at Beastly Books in Santa Fe.
Reginald did not turn up.  I gather he does that a lot.  Fortunately, his friend Dominick Noble was on hand to fill in, as he does often.  (Dom has a great YouTube channel of his own, LOST IN ADAPTATION, where he compares films made from books with their source material).
We had a lot of fun.  You can watch the discussion here:
After you've had a listen, go out and read NINE PRINCES IN AMBER… or any of Roger's books, really.  They're all great.
Current Mood:

cheerful