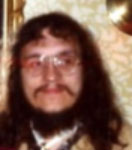 SyFy has rolled out the first trailer for the NIGHTFLYERS tv series, scheduled to debut this fall.
Check it out:
I am amused to see my own appearances in the promo. SyFy sent a film crew to Santa Fe last month, and we spent most of an afternoon taping a long interview about "Nightflyers," its inspiration and publication history, my Thousand Worlds, horror v SF v hyrbids, and so on. I hope at some point they will use some of that material, beyond the two sentences that made it into the trailer.
Very cool to see the show coming together.
Current Mood:

curious