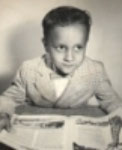 So, about our new train set…
The pandemic has slowed things down, needless to say, but my partners and I are moving ahead with our plans to restore the historic Santa Fe Southern Railway.   There's a lot of work ahead, and no sure way of knowing whether how long it will all take before we are ready to roll… but at the end, we hope to have something truly unique, a railroad different for the city different.
I thought you guys might enjoy a little peak into the history of the line, and some of our plans for the future.
I think Bill Banowsky speaks for all of us involved in this project when he talks about giving back to the community.  These days I belong to two communities: the world of science fiction, fantasy, and fandom, and the city of Santa Fe and the state of New Mexico.   I love them both, and do what I can to contribute to them both… paying it forward.
It is our hope the our reborn railroad will be a real boost for Santa Fe and Lamy, preserving a wonderful piece of history while creating jobs, promoting tourism, and providing some fun for children of all ages.
Wish us luck.
Current Mood:

excited