Just a brief note to confirm the other news in Mo Ryan's blog this morning.
Yes, there's been another recasting (and possibly a few more in the offing).
David and Dan and HBO have decided to reshoot the prologue sequence from the pilot. For the very best of reasons, I think: to make it better.
I've seen the pilot, or at least a rough cut thereof, and I thought the prologue sequence was quite good, actually. But this will be the opening scene of the entire series, the first introduction to the world of Westeros for millions of viewers, so "quite good" was not good enough. We want to make it great.
So we reshoot. The only problem with that being, life moves on and so do actors. Other roles come along, dates don't always work out, schedules refuse to mesh, even with the best of intentions. And that's what happened with our prologue.
Everyone loved Jamie Campbell Bower and his performance as Ser Waymar Royce… but since our pilot wrapped, JCB has gone on to win one of the lead roles in the new Starz series CAMELOT –no one less than Arthur Pendragon himself.
JAMIE CAMPBELL BOWER

Unfortunately, Jamie's shooting schedule with CAMELOT conflicted with our own, so there was no way he could come back and reprise his performance as Ser Waymar. But we wish him luck with his new (much larger) role… and who knows, if GAME OF THRONES should happen to have a longer run than CAMELOT, maybe one day he can come back and play another (much larger) role for us.
Meanwhile, for our reshoot, Nina Gold has found another terrific young British actor to don the sable cloak of Ser Waymar Royce. His name is ROB OSTLERE.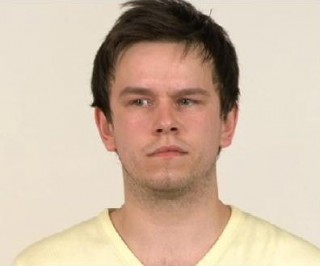 Ostlere is a relative newcomer, a recent graduate of the Royal Academy of Dramatic Arts who has appeared in the films THE TASK (just completed, not yet in release) and TORTOISE, and the tv series THE DOCTORS. He's actually an actor we've had our eye on for some time. Last year, when we were casting the pilot, he read for several parts, and was a strong contender for all of them. And though ultimately he lost out on those roles, he impressed all of us so much that we kept bringing him back. We knew he was someone we wanted to work with. It's great to have him as part of the show at last.
(If only, ah, briefly).
As for the other rangers in the prologue sequence… nothing has been settled there as yet, but there is a chance that those roles will need to be recast as well. We may also need to recast one other player, NOT from the prologue, again for reasons concerning a reshoot and schedule conflicts. But we'll see. Every effort is being made to work these things out.
Current Mood:
null