More cool news. The good folks at Green Ronin have informed me that PERIL AT KING'S LANDING has been nominated for an ENnie Award in the "Best Adventure" category.
The ENnie Awards are the most prestigious honors in role-playing these day, I am told. Green Ronin also has nominees in the "Best Game" and "Product of the Year" categories.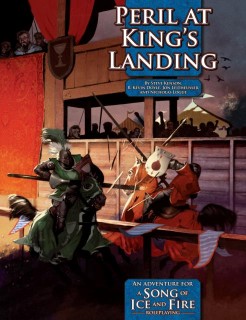 The voting is going on RIGHT NOW, and is open to the public. To cast your ballot, go to
http://www.ennie-awards.com/voting/ballot.asp
In other gaming news, Green Ronin informs me that the Pocket Edition of their SONG OF ICE AND FIRE RPG is at the printers, and will debut at GenCon. It is also available for pre-order for those who cannot be at GenCon.
http://www.greenronin.com/store/product/grr2705.html
My congratulations to Green Ronin. They have done a great job with the RPG license.
(Oh, one last word about RPGs. I've turned up another small batch of the deluxe limited edition leatherbound Guardians of Order RPG book, and will be offering them again via my website while the supply lasts. Watch my Signed Books page for details).
Current Mood:
null