The big casting news I was hinting about yesterday broke even before I finished hinting, in THE HOLLYWOOD REPORTER:
http://livefeed.hollywoodreporter.com/2010/07/game-of-thrones-casts-wire-veteran.html
So there you have it. Petyr Baelish, master of coin for the Seven Kingdoms of Westeros, will be played by the amazing Irish actor AIDAN GILLEN. (("Big news about a small digit," get it?))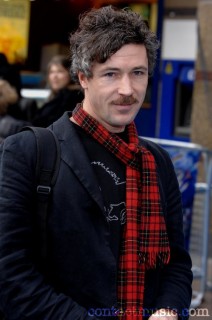 Gillen is best known to American audiences for his superb turn on THE WIRE, where he played Tommy Carcetti, an ambitious city councilman who runs for mayor for Baltimore… and loses most of his ideals along the way. Carcetti was a brilliantly written character, and Gillen played him brilliantly, painting a vivid picture of a charming, intelligent, well intentioned man slowly seduced by power. And he did it all with a Baltimore accent that was so convincing that I never doubted for a moment that he was American… and was startled to learn, when he first came in to read for Littlefinger, that he was actually Dublin born and presently lives in London.

British audiences knew him first for his role as Stuart Alan Jones in QUEER AS FOLK, but he has extensive credits in both television and stage. He's a winner of the IFTA (Irish Film and Television Award), and has been nominated for a BAFTA and a Tony.
He should make for a perfect Littlefinger, and I look forward eagerly to seeing what he does with the role.
Current Mood:
null