A GAME OF THRONES opens in the haunted forest north of the Wall, with three brothers of the Night's Watch on a ranging.
The viewpoint character is Will, sent to the Wall for poaching. In the pilot, he will portrayed by Bronson Webb.
He has been in projects with Tamzin Merchant, Nicholaj Coster-Waldau, and Iain Glen. One of his first roles was "boy on a bicycle." Peter Parker is Spider-Man and Bronson is a Webb, so they have spiders in common. And he has a home page, a Facebook page, and a MySpace page.
Will's commander on the ranging is the young knight Ser Waymar Royce, a son of Bronze Yohn Royce, new to the Wall, clad in sable cloak. Playing Ser Waymar will be Jamie Campbell Bower.
JCB has an important role in the forthcoming HARRY POTTER movie, as a wizard from Dumbledore's past, and can also be seen the new TWILIGHT film. And of course it is the twilight zone that lies between the pit of man's fears and the summit of his knowledge. He'll also be in the PRISONER remake, but as a number, not a free man. He was in SWEENEY TODD too, though I didn't include that in the clues. Didn't want to make it too easy.
The grizzled veteran Gared is the third member of the prologue's intrepid trio. His part will be played by Richard Ridings.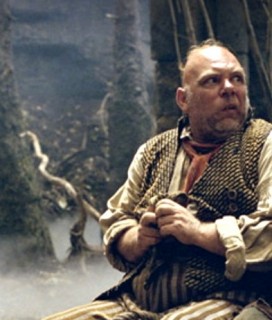 Ridings' previous credits include roles in RED DWARF, FAT FRIENDS, HIGHLANDER, and WHO FRAMED ROGER RABBIT? and turns as characters named Roach and Daddy Pig.
Current Mood:
null