The Subterranean Press hardcover of our Jack Vance tribute anthology, SONGS OF THE DYING EARTH, is sold out in all editions (lettered, numbered, and trade). But if you missed your chance, don't despair. You can still read a baker's score of Dying Earth stories from twenty-one of today's leading fantasists… the Voyager hardcover has just been released in the UK.
This will be one of the books that I will be signing in Ireland next month, at the events in Belfast and Dublin… but if you can't wait to read the stories, or happen to live someplace other than Ireland, you can snag at copy from Amazon UK or your favorite British online bookstore. The Amazon listing is at http://www.amazon.co.uk/Songs-Dying-Earth-Stories-honour/dp/0007277482/ref=sr_1_1?ie=UTF8&s=books&qid=1255117666&sr=8-1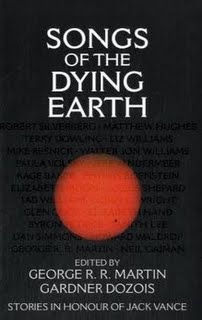 SONGS OF THE DYING EARTH was co-edited by me and Gardner Dozois, and includes a preface by Jack Vance himself, an appreciation by Dean Koontz, and stories by Neil Gaiman, Dan Simmons, Howard Waldrop, Mike Resnick, Phyllis Eisenstein, Kage Baker, Paula Volsky, Walter Jon Williams, Liz Williams, Tad Williams, Byron Tetrick, Elizabeth Moon, Elizabeth Hand, Jeff Vandermeer, Terry Dowling, Matthew Hughes, John C. Wright, Glen Cook, Lucius Shepard, Tanith Lee, Robert Silverberg, and yours truly. You're not likely to find a lineup to match that in any other anthology. Reviews have been very gratifying:
http://thewertzone.blogspot.com/2009/07/songs-of-dying-earth-edited-by-george.html
http://www.libraryjournal.com/article/CA6664389.html?industryid=47120
http://www.google.com/search?hl=en&ie=UTF-8&q=Songs+of+the+Dying+Earth+review+Martin+Vance+Dozois&start=10&sa=N
http://www.sfsite.com/09b/de304.htm
So come join us on the Dying Earth to pay homage to the genius of Jack Vance.
Current Mood:
null