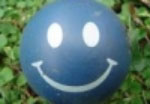 I try to get to New York City once or twice a year.  It's one of my favorite cities in the world, and my visits there are always half business, half pleasure.
On the business side, I check in with all my publishers (I have several), my agents (I have several), with my editors (past and present), with my friends and colleagues at HBO (past and present).   I often do a signing, an interview, or some other sort of public event.  On this most recent visit, Raya Golden and I did a signing down at Midtown Comics for her wonderful graphic novel of my unproduced pilot, STARPORT.   We scribbled in hundreds of books, and afterwards sat down for a short interview.
Autographed copies of STARPORT may still be available from Midtown Comics in Manhattan.  Or not.  We signed a lot of stock, but I am not sure how long they will last.   In any case, copies are certainly available from Santa Fe: https://jeancocteaucinema.com/product/starport-graphic-novel-pre-orders/
On the pleasure side… well, we often try to get to a Broadway show or two, but I was too busy this year.  I did find time to get together with my friends Ellen Datlow and Mr & Mrs X for a pizza crawl through the wilds of Jersey in search of bar pies.   This year we managed to hit the Landmark Tavern in Livingstone and the Star Tavern in Orange, both of which were amazing.
((And if you don't know what a bar pie is, you don't know pizza)).
I also combined business and pleasure with a dinner at the historic Keens Steakhouse with Kay McCauley, queen of agents, and my friends from Tor, publisher Tom Doherty and our Wild Cards editor, Diana Pho.   http://www.keens.com/
Keens has been a Manhattan mainstay since 1885, famous for their fabulous steaks and mutton chops… and for the hundreds of clay pipes that adorn their ceilings and walls.   In ye older times, no meal was considered complete without a bowl at its conclusion, and the regulars at Keens traditionally left their long, fragile "churchwarden" pipes at the restaurant, to be called for at need.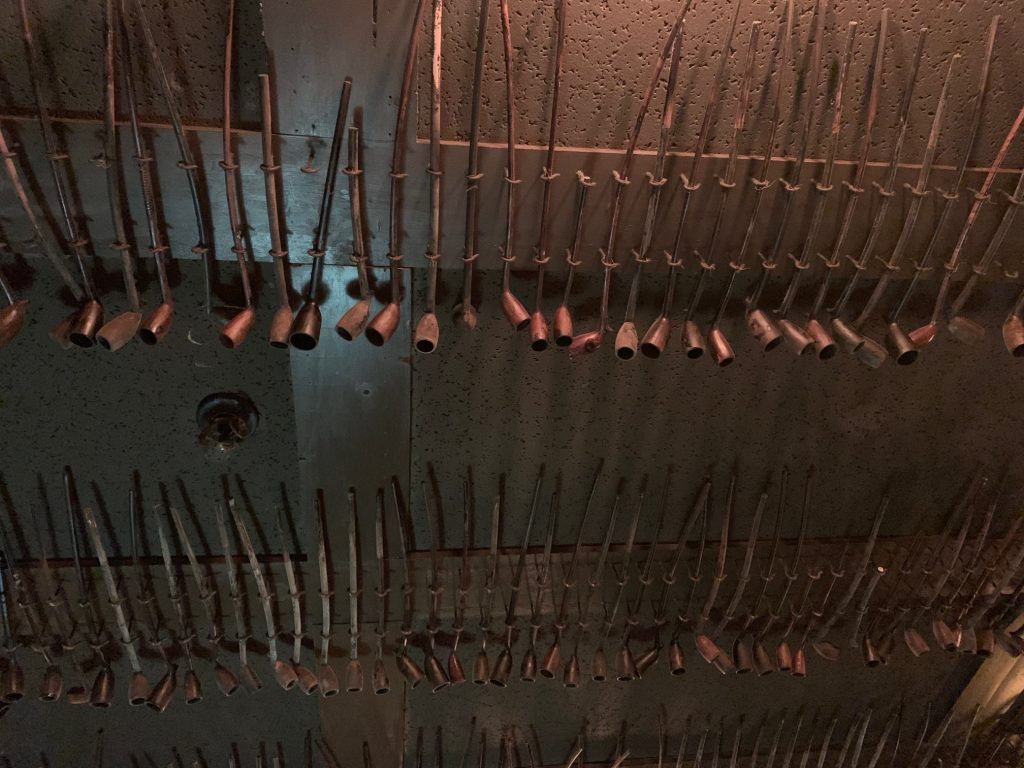 Keens still displays the pipes belonging to Teddy Roosevelt, Babe Ruth, Will Rogers,, Albert Einstein, George M. Cohan, J.P. Morgan, Stanford White, John Barrymore, David Belasco, Adlai Stevenson, Douglas MacArthur, "Buffalo Bill" Cody… and now me.
At the conclusion of the meal, Keens presented me with my own pipe and had me sign it.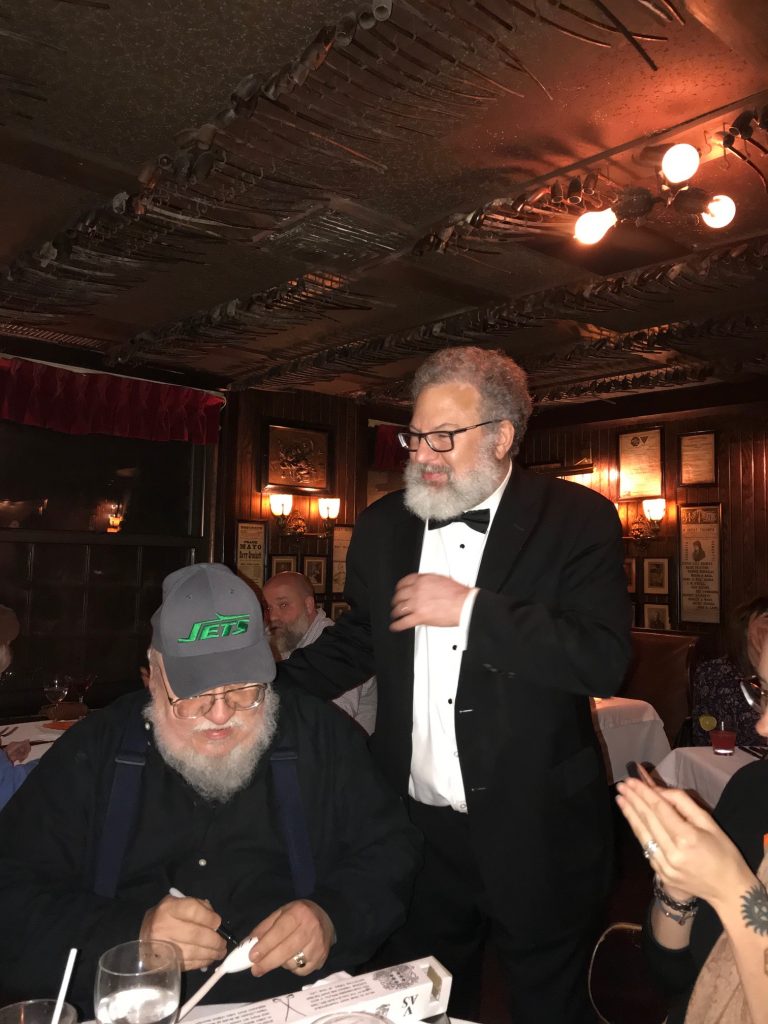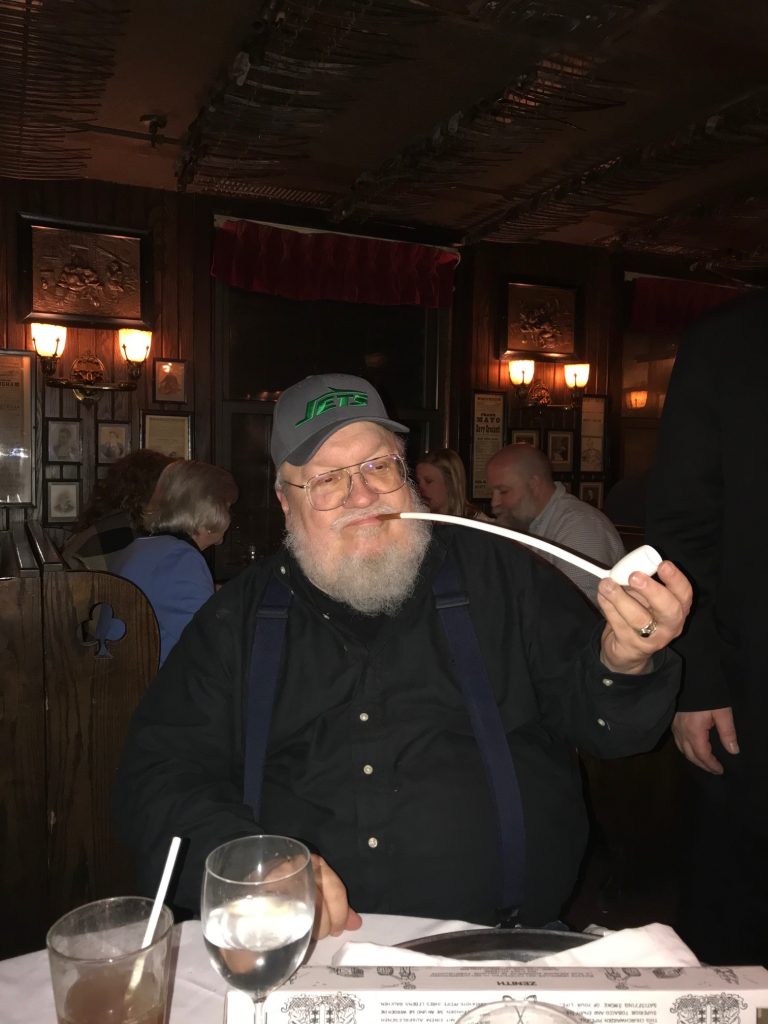 My pipe will now join the other celebrity pipes in Keens display cases.   And presumably I can call for it at need, the next time I visit New York City and have a hankering for a mutton chop and a bowl.   Not that it's likely to happen, since I don't smoke.   Never have.
And for that matter, Keens Steakhouse does not allow smoking these days, no more than any other Manhattan restaurant.
But it's still a cool, and unique,  honor.  My thanks to Tom Doherty and Kay McCauley, who arranged it.
Current Mood:

calm