Ogre Jenni speaks to you! I help out at Jean Cocteau Cinema (George's beautiful theatre) in Santa Fe.
We just received 16 awesome titles by Neil Gaiman—which he graciously took the time to sign. These books are now available for purchase at www.jeancocteaubooks.com.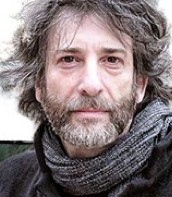 Our Neil Gaiman Titles:
Smoke & Mirrors: Short Fictions and Illusions
Trigger Warning
Instructions
American Gods
Coraline
The Graveyard Book Graphic Novel: Volume 1
Fortunately, the Milk
The Ocean at the End of the Lane: A Novel
Blueberry Girl
Neverwhere
Good Omens (co-authored by Terry Pratchett)
Anansi Boys
Sandman Overture
Sandman Volume 4: Season of Mists
Sandman Volume 1: Preludes and Nocturnes
Odd and the Frost Giants
You can learn much more about Neil at his website!
There are limited quantities of each book, so make sure to order quickly! If you have an inquiry about international shipping, please email jeancocteausantafe@gmail.com for a quote.
-THIS MESSAGE HAS BEEN BROUGHT TO YOU BY THE MINIONS OF FEVRE RIVER-