Hello everyone! I am Ogre Jenni, and I work for George R.R. Martin's beautiful theatre in Santa Fe, Jean Cocteau Cinema.
Thursday, February 18th at 7:00 PM, we will host two free episodes (Episodes 6 and 7) of USA's highly-anticipated sci-fi drama, "Colony". Immediately following the TV show screenings, we will host a conversation between Ryan J. Condal, the show's creator, and George R.R. Martin!
For participating audience members there will be exclusive "Colony" giveaways (awesome red berets) and vouchers for free concessions. All you lucky attendees have to do is post to your favorite social media platform using the hashtag #Colony.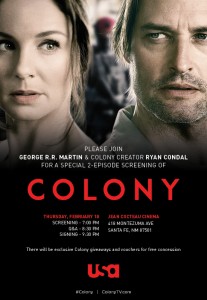 Can't make it to Santa Fe? Thursday's conversation with Ryan and George will be streamed live on IGN's Periscope channel at 8:30 PM (Mountain Standard Time). You won't be able to watch the broadcast until 8:30 PM sharp, so keep an eye on your clocks! Here is the link for the Periscope broadcast: periscope.tv/IGN.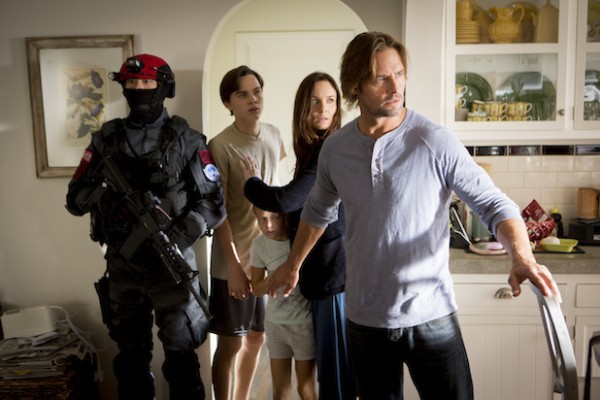 ABOUT THE SHOW:
From executive producers Carlton Cuse ("Lost") and Ryan Condal ("Hercules") comes USA's highly-anticipated drama "Colony." Set in the very near future, "Colony" centers on one family's struggle to survive and bring liberty back to the people of an occupied Los Angeles.
SAG winner Josh Holloway ("Lost") stars as former FBI agent Will Bowman and Satellite Award winner Sarah Wayne Callies ("The Walking Dead") stars as his wife, Katie, in the series which takes place in a dangerous world of divided ideologies. While some choose to collaborate with the occupation and benefit from the new order, others rebel and suffer the consequences. After being separated from their son during the invasion, Will and Katie are willing to do whatever is necessary to be reunited with him. Thus, when the powerful Proxy Snyder (Peter Jacobson, "House") offers Will a chance to get his son back if he will collaborate with the occupational government, Will and Katie find themselves faced with the toughest decision of their lives. They will have to go beyond whatever they thought possible to protect their family.
<lj-embed id="679″/>
-THIS MESSAGE HAS BEEN BROUGHT TO YOU BY THE MINIONS OF FEVRE RIVER-