As Ogre Jenni details below, we will be hosting the world premiere of SyFy's new EXPANSE series tomorrow at the JCC, screening the first two episodes on our big medium-sized screen. First fifty people to attend the 4pm booksigning will get tickets for the 8:30 screening; the rest of the tix will be available on first come, first seated basis.
However, it's the latest Expanse novel that I want to talk about here.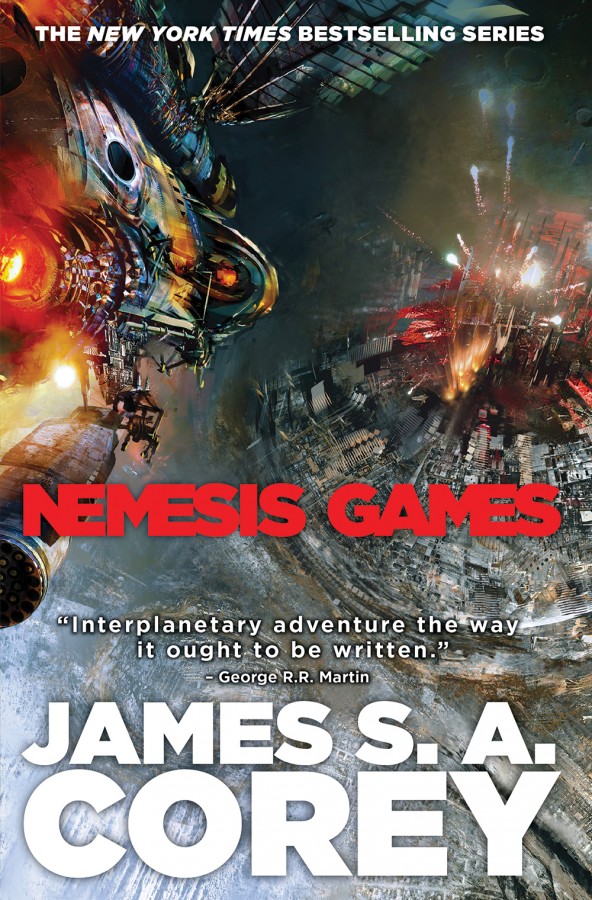 NEMESIS GAMES is just terrific.
This is definitely one to keep in mind when filling out your Hugo ballot this year. The first of the Expanse series, LEVIATHAN WAKES, was a Hugo nominee (and loser) back in 2012. Subsequent volumes have not made the ballot. This one should. I don't know if it will be the best SF novel published in 2015 (I still have a lot of novels to read), but I can't imagine that it won't be one of the top five. Fans of space opera, of classic old school SF done really well, of great can't-put-it-down storytelling, should love this one, I'd think. Fans of military SF as well; the Expanse books have all the excitement of the best military SF along with a lot more. Two-headed Jimmy Corey has created a detailed, vivid, well-imagined, lived-in world, peopled it with a great cast of characters, and here welded all that to a page-turning plot that takes us places I never imagined they could go.
Those of you who live near enough, come to the JCC tomorrow and get Jimmy to sign your books and catch the EXPANSE premiere.
Those who don't… go out and grab NEMESIS GAMES. It's a hell of ride.