Terry Pratchett is gone, and the world of fantasy is that much poorer this morning.
The creator of Discworld, and author of more novels than I can dare to contemplate, Terry was one of our greatest fantasists, and beyond a doubt the funniest. He was as witty as he was prolific, and that's saying something. The BBC has an obituary for him here:
http://www.bbc.com/news/entertainment-arts-31858156
I cannot claim to have known Terry well, but I ran into him at dozens of conventions over the decades, shared a stage with him a few times, and once or twice had the privilege of sharing a pint or a curry. He was always a delight. A bright, funny, insightful, warm, and kindly man, a man of infinite patience, a man who truly knew how to enjoy life… and books.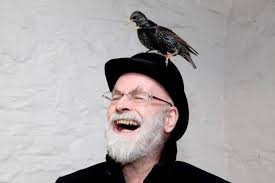 He is survived by Granny Weatherwax, Nanny Ogg, Mort, Death, Death of Rats, Commander Vimes, the Librarian, Cohen the Barbarian, Rincewind the Wizard, the Luggage, and hundreds of other unforgettable characters, whose adventures will continue to delight and surprise readers all over the world for many years to come.
Terry Pratchett was one of the good guys. He'll be missed.
Current Mood:
null