Remember Venus? No, no, not the hellhole that NASA found, with its acid rains and searing temperatures, but Old Venus, the Venus of our childhoods, the Venus of Burroughs and Moore and Bradbury and Brackett and Heinlein and Zelazny… the Venus that Astro hailed from… shrouded in clouds, mysterious, teeming with dinosaurs and endless swamps anmd furtive web-footed Venerians?
Who says you can't go home again? Old Venus awaits you. OLD VENUS, the latest original anthology from me and my co-conspirator Gardner R. Dozois, goes on sale today at a bookstore near you, or from your favorite on-line bookseller.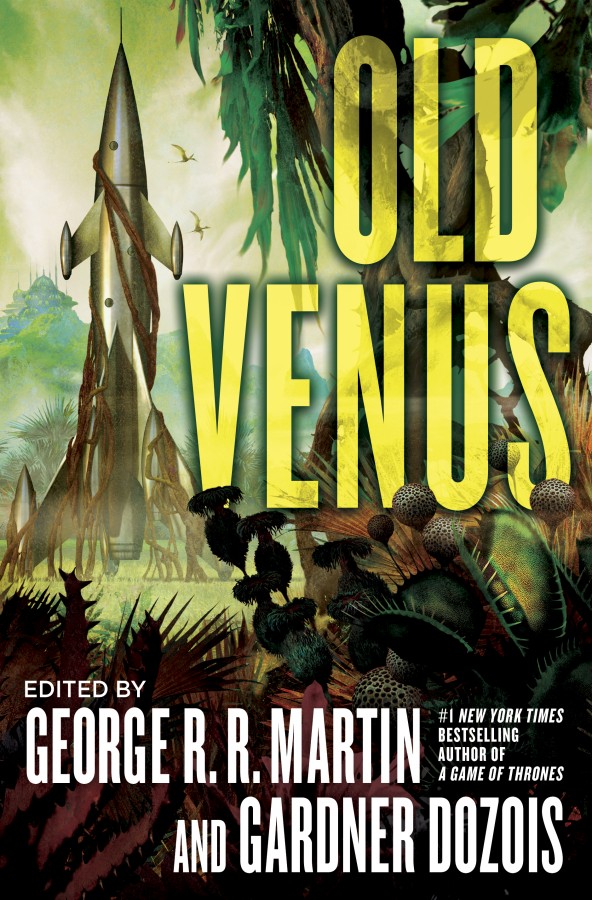 Here's the table of contents:
The final lineup:
INTRODUCTION, by Gardner Dozois
FROGHEADS, by Allen M. Steele
THE DROWNED CELESTRIAL, by Lavie Tidhar
PLANET OF FEAR, by Paul McAuley
GREEVES AND THE EVENING STAR, by Matthew Hughes
A PLANET CALLED DESIRE, by Gwyneth Jones
LIVING HELL, by Joe Haldeman
BONES OF AIR, BONES OF STONE, by Stephen Leigh
RUINS, by Eleanor Arnason
THE TUMBLEDOWNS OF CLEOPATRA ABYSS, by David Brin
BY FROGSLED AND LIZARDBACK TO OUTCAST VENUSIAN LEPERS, by Garth Nix
THE SUNSET OF TIME, by Michael Cassutt
PALE BLUE MEMORIES, by Tobias S. Buckell
THE HEART'S FILTHY LESSON, by Elizabeth Bear
THE WIZARD OF THE TREES, by Joe R. Lansdale
THE GODSTONE OF VENUS, by Mike Resnick
BOTANICA VENERIS: THIRTEEN PAPERCUTS BY IDA COUNTESS RATHANGAN, by Ian McDonald
OLD MARS was a great hit with fans of old-fashioned space opera and planetary romance, and we think OLD VENUS is even better… and there's one story in there that's so bloody good that if it doesn't win the Hugo and Nebula both, I'll count it as a major injustice. Which one? Ah, I will leave you guys to figure that out. But first you'll need to read the book.
Current Mood:
null