Movies, music, and booksignings aren't the only things we offer at the Jean Cocteau in Santa Fe.
The theatre lobby also doubles as a small art gallery. Every month or so we mount another exhibition… of painting, photography, mixed media, what have you. As with our movies, we strive to be eclectic in the art we show.
Up to now, we've displayed the work of local artists, some very talented painters and photographers based in Santa Fe and vicinity. But next week we'll be offering something a little bit different — a display of photographs by Matt Lambros, an amazing photographer from New York who has spent the last several years travelling around the country photographing abandoned and decaying theatres and movie palaces.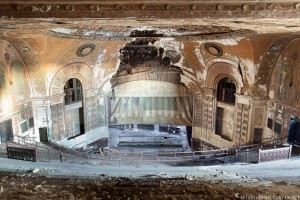 The moment I saw Lambros's work, I knew I wanted to show it at the Jean Cocteau. What better venue, than the lobby of a theatre that has returned from the dead? I find Matt's photographs very powerful and very sad. These dream palaces had a brief heydey compared to the great cathedrals and castles of the middle ages, but they share the same sort of grandeur, even in decay. There's a strange beauty here. By rights, all these theatres should be haunted, and maybe they are… by the ghosts of all the kings and queens, heroes and villains, lovers and louts who strolled across these stages.
Lambros displays his photographs on his amazing website, AFTER THE FINAL CURTAIN, which you can check out for yourself here:
http://afterthefinalcurtain.net/
There's far more on his website than can be exhibited in the Cocteau's small gallery area, so in addition to the exhibition, Matt Lambros will be doing a lecture and slide show on Monday, February 17, starting at 6:20pm. Tickets are available at the Cocteau website. http://www.jeancocteaucinema.com/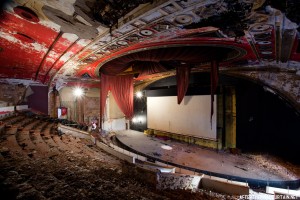 I am really looking forward to hearing Matt Lambros, and seeing some of his work up close and in the original. The exhibition will run from tomorrow through March 17. If you get the chance, come see it. And if you're in town Monday night, join us for the lecture and slide show.
Current Mood:
null