THE SWORN SWORD is back.
The graphic novel, that is. Scripted by Ben Avery, illustrated by Mike S. Miller, it has been out of print for years in its original editions from Marvel and DBPro, and fetching ever higher prices on ebay, but now at last there is a brand new edition for those who want to read Dunk & Egg's second adventure without paying collector's prices for it. Jet City Comics released their own edition of THE HEDGE KNIGHT II: THE SWORN SWORD on January 22, in both digital and print formats. You'll find the paper editions on sale at your favorite local bookstore or comics shop. The electronic version is available for Kindle from Amazon at
http://www.amazon.com/Sworn-Sword-Graphic-Novel-Thrones/dp/1477849297/ref=sr_1_1?s=books&ie=UTF8&qid=1392582991&sr=1-1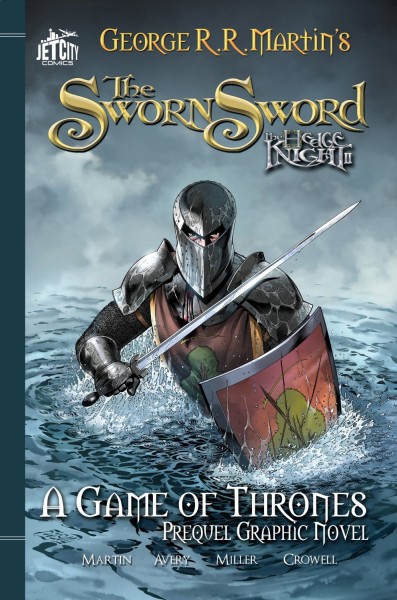 So far, the response has been great. Both the physical and digital editions debuted on Amazon as #1 in Comics & Graphic Novels: Fantasy, ahead of many great works. And the physical edition rose to the Top 600 in Books.
The graphic novel of THE HEDGE KNIGHT also saw a boost, rising to #2 in Comics & Graphic Novels: Fantasy.
And Jet City published a new interview with Mike S. Miller about his experience working on both projects.
Meanwhile, over at Random House, Ben Avery and Mike S. Miller are reportedly hard at work on a graphic novel adaptation of the third Dunk & Egg novella, "The Mystery Knight." More on that one down the line.
Current Mood:
null