I've realized that I have been remiss here in talking about the FEVRE DREAM comic, which made its debut in April at the C2E2 show in Chicago, and has been steaming along merrily ever since, releasing a new issue every month, dagnabit (sorry, channeling my inner Abner there), unlike certain other comics with which I have been connected.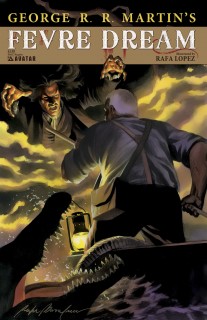 The comic, of course, is an adaptation of my 1982 historical horror novel about vampires on antebellum Mississippi river steamboats. "Bram Stoker meets Mark Twain," one might say, or even "Huck Finn Meets Dracula." Something like that. The book was pretty well received, anyway. A finalist for the World Fantasy Award in its day. (Lost to Michael Shea's NIFFT THE LEAN. I never win the novel prizes).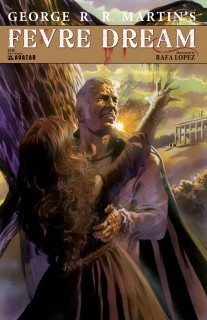 The comic is being published by William Christensen and his team at Avatar Press. Script and adaptation by my friend and sometime collaborator Daniel Abraham (one my partners on HUNTER'S RUN, creator of Jonathan Hive in the Wild Cards universe, and author of THE LONG PRICE QUARTET, the best damned fantasy that too few of you have read), who has done a terrific and very faithful translation. Art by Rafa Lopez, pride of Malaga, Spain.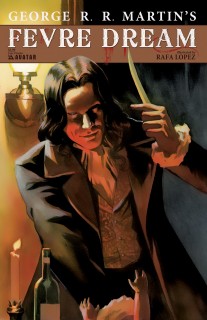 The first four issues should be available right now in any good comics shop, with the fifth issue due out soon. (And if your local comic shop doesn't have them, then it's not a GOOD comics shop, is it?). The miniseries will run to ten issues, so we're almost halfway home. No year-long delays between issues are anticipated. The whole story is done and in the can, penciled, inked, colored, everything.
And I promise you: my vamps suck, but they don't sparkle.
Current Mood:
null