Coming in November…
For all those Wild Cards fans, both old and new, who have been complaining that the original series is impossible to find, and too damn expenseive when you do find it, I'm pleased to announce that Tor will be releasing a new edition of the first volume in the series, WILD CARDS, this November.
Here's an advance peek at the cover mock-up, which once again features the gorgeous art of Michael Komarck.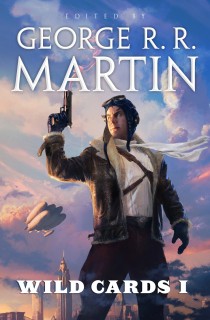 The new edition will be in trade paperback format.
If you've enjoyed INSIDE STRAIGHT, BUSTED FLUSH, and SUICIDE KINGS (and if not, you should), and wanted to know how it all began, here's your chance to start at the beginning.
Longtime fans of the series will recall that WILD CARDS is our historical volume, with stories that took us all the way from Dr. Tachyon's arrival on Earth in 1946 right up to the Wild Card "present" — which was 1986 back when the book came out in 1987. We had forty years to cover, and we covered it pretty well… but of course, there were gaps. Years and even decades of Wild Card history that we simply did not have the space to dramatize.
Tor's new edition will help rectify that. We're not just reprinting volume one as it was first published; we're adding three brand-new, original, never-before-published stories set during some of the "lost years" we couldn't cover last time around. So this edition of WILD CARDS will be fortified with original content, extra fiber, and three news tale:
– Michael Cassutt will take us back to 1956 with, "Captain Cathode v the Secret Ace,"
– David D. Levine will visit 1960, to tell us about "Powers," and,
– Carrie Vaughn will show us 1981, as "Ghost Girl Takes Manhattan."
We think these will be three terrific new additions to the Wild Cards saga, and we're excited about the chance to present them to you.
November is looking to be a big, big month for me. In addition to WILD CARDS, that month will also see the release of SONGS OF LOVE AND DEATH, the big new cross-genre romance/ fantasy anthology that Gardner Dozois and I have edited. AND I'll be showing up in Minnesota for Fantasy Flight's "Days of Ice and Fire."
Current Mood:
null