All of you Wild Cards fans out there should check out my website. Seeing as SUICIDE KINGS has been out for half a year, I finally got around to taking down the SK excerpt in my "Wild Cards Sample" page, and replacing it with a sample from the new book, FORT FREAK.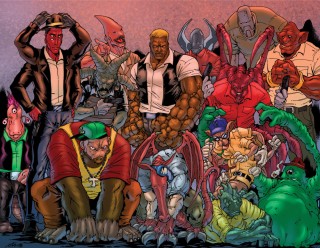 The new sample is by the enormously talented Cherie Priest; the first section from "Rat Race," her interstitial story, featuring her joker detective, Leo "Ramshead" Storgman.
FORT FREAK is the twenty-first volume in the Wild Cards series. Tor will be bringing the book out in hardcover in June, 2011. Along with Cherie's tale of Ramshead's final months in the 5th precinct, stories by Melinda M. Snodgrass, John Jos. Miller, Victor Milan, Ty Franck, Paul Cornell, David Anthony Durham, Stephen Leigh, Mary Anne Mohanraj, and Kevin Andrew Murphy will also be featured. Old favorites like the Oddity, Father Squid, Dorian Wilde, Charles Dutton, Tienyu, and the Sleeper will be on hand, and you'll be meeting some great new jokers, aces, and deuces, including Tinkerbill, the Rook, Ratboy and Flipper, Abigail, Natya, SlimJim, the Magpie, Tabby, Beastie Bester, the Button Man, Maggie Graves, Sgt Squinch, Gordon the Ghoul, and the Infamous Black Tongue.
And as long as I was swapping out samples, I rotated the excerpt on the Ice & Fire sample page as well, replacing the first Tyrion chapter from DANCE with the first Jon Snow.
Enjoy the reads.
Current Mood:
null