Just a few days left in March. When the month ends, so does our foreign edition sale, so if you want $5 off the foreign translations of any of my books, this is the time to act.
I really don't know where the time goes. It seems like yesterday I was watching the Superbowl, and a few days before that I was just getting back from Spain and Portugal. The days and weeks and months seem to go by so quickly now… and the pages come so slowly…
Speaking of Spain and Portugal, I meant to post a lot more about my travels there last summer, and to post some pictures too. Another good intention swallowed by the demands of work and the lateness of the hour. I may still post a few things, though. Better late than never, I suppose… and it was a wonderful trip.
I need to post about WATCHMEN (which I loved) and the BATTLESTAR GALACTICA finale (which I pretty much hated) too. In my copious spare time. But I really do have a lot to say about both. The Watchmen/ Wild Cards compare-and-contrast exercise is an essay in itself…
Subterreanean Press sent me an Advanced Reading Copy of the Jack Vance tribute anthology, SONGS OF THE DYING EARTH, a few days ago, and I've been dipping into it. I'd read all the stories before, of course, but it's still fun to revisit them. I even reread my own story, "A Night at the Tarn House," and thought it held up pretty well. That's always a relief. Sometimes I hate my own stuff when I reread (sometimes I love it, too, I'm a moody sonofabitch).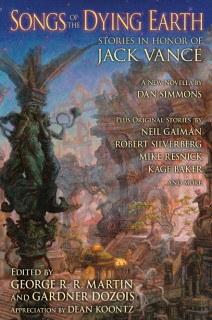 I hope Jack Vance likes the book. The impact he's had on the field, and especially on the writers in the anthology, has been immense.
I've also just received a couple of advance copies of the limited edition FEAST FOR CROWS from Subterranean. Oh my, oh my. What a beautiful book. Tom Canty is amazing. FEAST is shipping now. Unfortunately, this is a limited edition, and it was long ago sold out. The lettered and numbered editions of the Vance book are also sold out, but copies of the trade hardcover are still available from the Subterranean website… and the trade will still feature the gorgeous interior artwork by Tom Kidd.
Some cool new stuff from Green Ronin Games as well. Their first Wild Cards adventure, ALL IN, has been released, and so has their new Ice & Fire role playing game. I need to write a story about those for my website news page… so much to do, so little time… but here's some pictures of the cover art, to whet your taste, at least: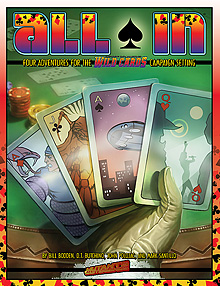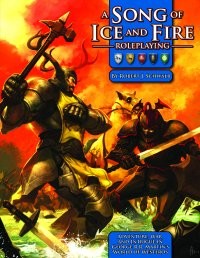 Visit the Green Ronin website for more information for the games.
Oh, and my new Library Tower is almost complete. Another week, and the renovations should all be done. It's cost a fortune and there's been a lot of noise and dust and disruption, but it will all have been worth it. The tower is gorgeous. I'll try to post pictures, if I can ever find my camera. I took it to the Page One signing for BUSTED FLUSH, snapped lots of pics there, brought it home, and haven't seen it since.
sigh
The Library Tower should help with that too. Finally, some organization.
Current Mood:
null