Look up in the sky! It's a bird! It's a blimp!! No, it's FIVE blimps strung together!!! And here comes Jetboy…
That was how the Wild Cards series began, way way back in 1987 before some of you were born. Here we are in 2009, and the series is still going strong. The new books, INSIDE STRAIGHT and BUSTED FLUSH (and don't forget SUICIDE KINGS, coming this December from Tor) have drawn a lot of new readers to our world of aces and jokers, and many of them have been emailing me to ask where they can find the old books. But with the original series long out of print, the best I could do was suggest that they search on ebay and ABE in hopes of turning up some used copies at a not-too-outrageous price.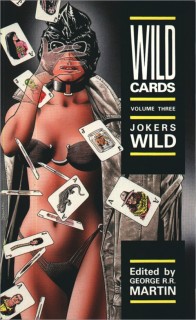 Well, all that is about to change. I'm pleased to announce that the response to the new Wild Cards books has been strong enough that our friends at Tor Books are going to start doing new editions of the original series — starting right at the beginning with the first three volumes: WILD CARDS, ACES HIGH, and JOKERS WILD. Our first triad.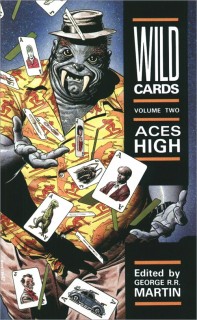 Nothing is set in stone yet, but we're talking about bringing the books out as hardcovers (the old editions from Bantam and Titan were paperback originals, though the Science Fiction Book CLub did reprint volumes one through six as hardcovers)and possibly as omnibus editions. Details on that remain to be explored, but I'll be sure and keep you posted.
But that's not even the best part yet.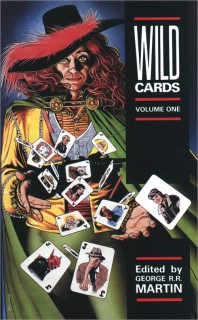 Longtime fans of the series may recall that the first book, WILD CARDS, was our historical volume, with stories that took us all the way from Dr. Tachyon's arrival on Earth in 1946 right up to the Wild Card "present," which back then was 1986. We had forty years to cover, and I like to think we covered it pretty well… but of course, there were gaps. Years and even decades of Wild Card history that we simply did not have the space to dramatize.
Tor's new edition will help rectify that. We're not just reprinting the original WILD CARDS, as it was first published; we're adding three brand-new, original, never-before-published stories set during some of the "lost years" we couldn't cover last time around. So this edition of WILD CARDS will be the director's cut, if you will, fortified and expanded with original content, extra fiber, and three news tales:
– Michael Cassutt will take us back to 1956 with, "Captain Cathode v the Secret Ace,"
– David D. Levine will visit 1960, to tell us about "Powers," and,
– Carrie Vaughn will show us 1981, as "Ghost Girl Takes Manhattan."
We think these will be three terrific new additions to the Wild Cards saga, and we're excited about the chance to present them to you. Look for the new expanded WILD CARDS some time in 2010. More details when I have 'em.
We can't die yet. We haven't seen THE JOLSON STORY.
Current Mood:
null