All you Vance fanatics out there… if you'd like a taste of the treats that we have in store for you in the forthcoming Jack Vance tribute anthology, SONGS OF THE DYING EARTH, be sure to check out the new issue of Subterranean Press's online magazine, SUBTERRANEAN.
This issue was guest edited by Gardner Dozois, the most honored editor in our genre and my partner on the Vance book and WARRIORS. Among other treats, it contains a brand-new Dying Earth story from Lucius Shepard. "Sylgarmo's Proclamation" is only one the twenty-one original tales of the Dying Earth featured in the anthology. Just a taste to whet your appetite for more. We think you'll like it.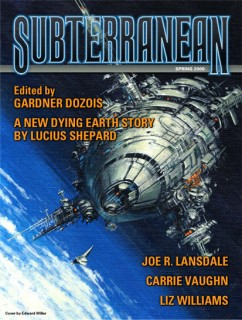 The issue also features stories by Carrie Vaughn (of Kitty and Wild Cards fame), a novella by Paul McAuley, novelettes by Joe R. Lansdale, Liz Williams, and Ken McLeod, and other good stuff.
To check out a copy, go to http://subterraneanpress.com/index.php/magazine/spring-2009/
Current Mood:
null