Mostly I collect knights and medieval miniatures, sure, but I'm a science fiction fan and writer too, and every so often I see a space toy I can't resist.
If any of you are fans of the old 1953 George Pal version of WAR OF THE WORLDS, Pegasus has just released a marvelous model of the Martian war machines, available in both kit and finished form. I picked up two of the finished models from Michigan Toy Soldier, and they're really seriously stunning, boys and girls.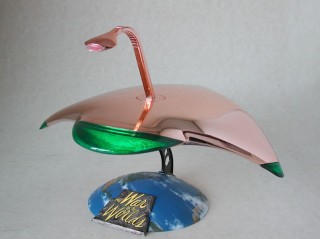 I know, Pal's floating manta rays are not as accurate to H.G. Wells as Stephen Spielberg's tripods. And damn, they just look so cool and menacing… and of course, they're an icon of my childhood …
Besides, the Pal movie was better than the Spielberg version anyway.
Current Mood:
null