The Jack Vance tribute anthology that I co-edited with Gardner Dozois, SONGS OF THE DYING EARTH, has been announced as one of the finalists on this year's shortlist for the British Fantasy Awards. We're in the Best Anthology category, natch.
LOCUS has a full list of nominess available at http://www.locusmag.com/News/2010/06/2010-british-fantasy-award-nominees/
Needless to say, Gardner and I are thrilled by the news. It's a great honor for us, and for Jack Vance, without whose seminal work modern fantasy would look very, very different.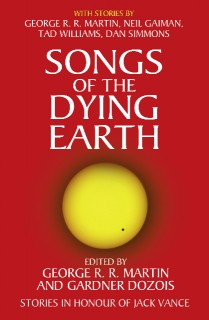 If you haven't read the book yet, hey, never too late… and after you've read these Vance tributes, by our all-star lineup of writers, go and read some of Jack's own books. Fantasy doesn't get much better.
Current Mood:
null