Subterranean Press has just announced that they've sent our Jack Vance tribute anthology, SONGS OF THE DYING EARTH, (which I co-edited with Gardner Dozois) to the printers:
http://subterraneanpress.com/index.php/2009/05/19/just-sent-to-the-printer-jack-vance-china-mieville-and-more/
This is the illustrated edition, with gorgeous interior artwork by Tom Kidd. The lettered and numbered states are sold out, but copies of the trade remain available at the SubPress website.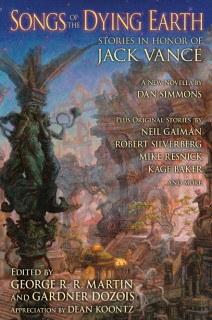 It's going to be a real Jack Vance extravaganza over at Subterranean, since they are also rolling to press with his autobiography, IT'S ME, JACK VANCE, and the collection WILD THYME, GREEN MAGIC.
Current Mood:
null