With my library tower complete at last, we've finally started moving things out of storage. We were actually able to give up one of our three lockers, and get down to two. Some of the stuff has been in storage so long that we'd forgotten that we owned it, so finding it again is like bumping into an old friend you haven't seen in years.
And some buried treasures are coming to light as well. To start with, we found another box of the deluxe limited edition hardcover of the GAME OF THRONES rpg from Guardians of Order. And since they were safe in storage, these copies are NOT horribly water-damaged.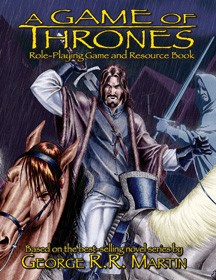 I know that there more of you who wanted to get your hands on one of these, so I am pleased to offer autographed copies once again. Details can be found on my website at:
http://www.georgerrmartin.com/books-limited.html
So far we have only found one box, so it will be first come, first served for as long as copies last. I do think there are more out there in the two remaining storage lockers, but I don't know how long it will take us to uncover them. Maybe tomorrow. Maybe next year.
Current Mood:
null