SONGS OF THE DYING EARTH, the big Jack Vance tribute anthology I edited with Gardner Dozois, is at the printers now, but you can get a free sample of the treats awaiting you therein, courtesy of Bill Schafer and the other good folks at Subterranean Press.
"Sylgarmo's Proclamation," Lucius Shepard's original novellette of the Dying Earth, is now available at Subterranean Online at http://subterraneanpress.com/index.php/magazine/spring-2009/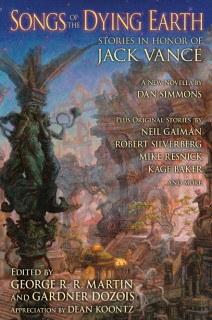 So take a look… and if you like what you see, copies of the illustrated trade hardcover are still available from Subterranean. But don't wait too long. The lettered and numbered editions are already sold out, and Tor's hardcover won't be published until 2010.
Current Mood:
null