I can't resist sharing some more beautifully painted miniatures.
Here's another set of the Lannister twins. These two were painted for me by the exquisitely talented Jen Haley of Paintrix Miniatures, whose website can be found at http://www.paintrix-miniatures.com/ First up is Jaime, this time in crimson Lannister plate, wearing the black silk cape he wore the first time we see him, at Winterfell in A GAME OF THRONES.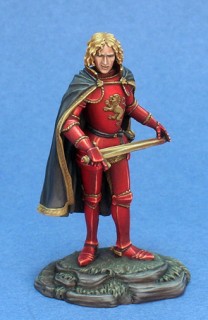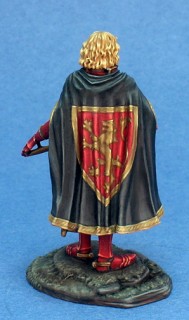 The facial details are just amazing, I think. I used to try my own hand at painting, when I had a bit more time, but at this scale I count myself lucky when I can get both eyes on the same side of the nose, with the pupil inside the white. But take a look at this close up —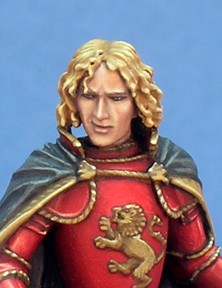 And of course, Ser Jaime hardly ever goes anywhere without his sis, so here's Cersei in a stunning brocade gown, all freehand work by Jen.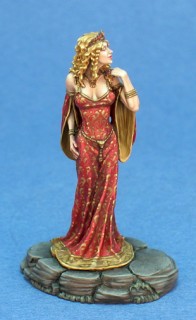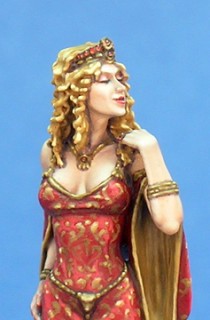 Many of you are not collectors or painters, I know. You may not have any idea how very very HARD it is to do this. Just to put it all in perspective, this shot will give you some idea of the scale of these figures: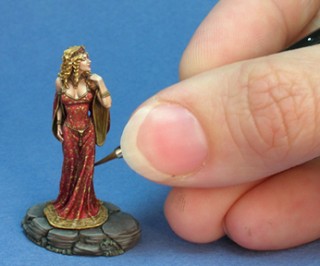 It really requires painting of this quality to bring out all of the astonishing details of Tom Meier's amazing sculpts.
The twins, and the rest of the range, are all available from Dark Sword Miniatures at http://darkswordminiatures.com/ for those who want to try their own hand.
Good luck.
Current Mood:
null