I've just finished correcting the page proofs of "A Night at the Tarn House," the novelette I wrote for the Jack Vance tribute anthology, SONGS OF THE DYING EARTH. Tomorrow they go back to Subterranean Press, where the book is zooming into production. Appears we're looking at an August pubdate, barring unforeseen schedule changes. The limited editions — both lettered and numbered — are already sold out, but copies of the illustrated trade edition, with its gorgeous Tom Kidd artwork, can still be preordered from the Subterranean website at
http://www.subterraneanpress.com/Merchant2/merchant.mv?Screen=PROD&Product_Code=martin07&Category_Code=PRE&Product_Count=20
Some writers actually like correcting proofs, I am told. Not me. I've always found it tedious. When the proofs are full of errors, it makes me wonder if I'm missing some of them, and I worry about mistakes sneaking by. When the proofs are clean, that makes me REALLY nervous and I end up going over the same pages several times, searching for the errors that I'm somehow not seeing.
These proofs were pretty clean, by and large, though I caught a few typos… mostly my own. In the old days before computers, most of the mistakes you found when proofreading were ones that had crept in during typesetting. No longer. These days, ninety per cent of the time, when I find a mistake in the text, it is one I made myself.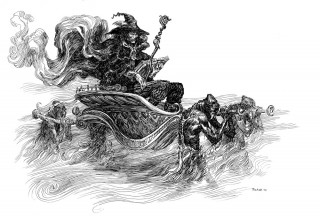 I'd read three-quarters of 'Tarn House' weekend before last at CoSine in Colorado Springs, but this was the first time I'd gone through the whole thing since mailing it off to my co-editor, Gardner Dozois. It held up pretty well, I thought. No one writes like Jack Vance but Jack Vance, which made this a rather intimidating assignment… but fun as well. Many of the other writers in the book attempted to recreate Vance's unique style, but I was content just to nod in that direction, and try my best to evoke his world and some of his wit. The readers will be the judge of how well I did, but my hope is that the Vance fans out there will enjoy meeting Molloqos, Lirianne, and the Great Chimwazle (whose name is an obscure Howard Waldrop swipe, I blush to confess) as much as I did writing about them.
And besides, you can't imagine how good it feels to have finished something.
Some writers enjoy writing, I am told. Not me. I enjoy having written.
Vance fans will also want to be sure to pick up the Spring issue of Subterranean's online magazine. Gardner Dozois was the guest editor for the issue, which will feature — among other treats — one of the other stories from SONGS OF THE DYING EARTH: "Sylgarmo's Proclamation," by Lucius Shepard. Consider it an appetizer.
Current Mood:
null