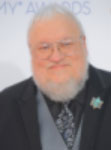 Yes, I know, most of you have already seen this.   (What can I say?  I am busy.   Juggling so many balls, so many projects, posting stuff on my Not A Blog is not my highest priority, so things may always be a little bit behind here).
For the handful who have been off the internet the past few days, however… HBO has released the first official teaser/trailer for HOUSE OF THE DRAGON.  Here 'tis.
Enjoy.
(And yes, I love it too.  Ryan and Miguel and their team are kicking ass and taking names).
Current Mood:

happy