… but then I'd have to kill you.
Yes, yes, I know.   The internet is full of stories about a second GAME OF THRONES prequel moving closer to  production.   There are stories in the HOLLYWOOD REPORTER, DEADLINE, dozens of other places.   You've seen them, I suppose.   Since one cannot put the genie back in the lamp, here's a link to one of the most complete, from ENTERTAINMENT WEEKLY.
https://ew.com/tv/2019/09/12/game-of-thrones-prequel-targaryens/
Many people have been emailing me since these stories hit the web, asking me to confirm or deny.
Sorry.   Can't.   Well, not much, in any case.   Yes, I can confirm that HBO put several GAMES OF THRONES successor shows in development at one point.   There were four to start with.   Then five.   Then three.   I've said all that before.   Jane Goldman's as yet untitled show, which I am still not supposed to call THE LONG NIGHT, is one of those.   The pilot on that one wrapped a month ago and has been in post-production.  I am expecting to see her first cut soon.   (Last month in Belfast, I got a behind-the-scenes look at some of her sets, and they were spectacular).
The show stirring up all the internet headlines right now is one of the others.   Also a prequel.   Set thousands of years after Jane's show in the history of Westeros.  And yes, it is based on material from one of my books.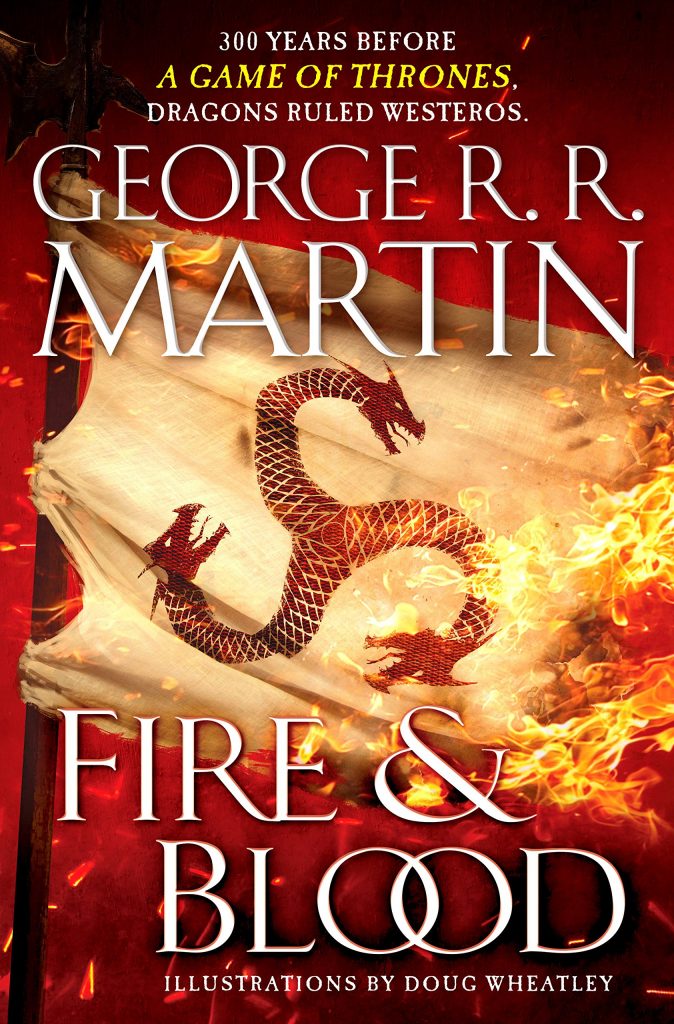 ((FWIW, those who have read FIRE & BLOOD will realize it contains enough materials for a dozen shows)).
This one has a title, but no one else has revealed it, so I had better not either.  ((But it's not the obvious title)).
It has a script and a bible, and both of them are terrific, first rate, exciting.   They're the work of RYAN CONDAL.   I first met Ryan when he came to New Mexico a couple of years ago to shoot a pilot for a fantasy western called THE SIXTH GUN, based on the comic book.   That show did not go, though I had the pleasure of screening the pilot at my theatre, the Jean Cocteau.   Later we also did a premiere for COLONY, the aliens-in-LA series that Ryan created and ran.   He's a helluva strong writer, and a huge fan of A SONG OF ICE & FIRE, Dunk & Egg, and Westeros in general.   I've loved working with him, and if the Seven Gods and HBO are kind, I hope to keep on working with him for years to come on this new successor show, the title of which is…
Ooops.  Almost slipped.   Can't say yet.
I can say that there will be dragons.   Everyone else has said that, so why not me?
I do want to point out that "moving closer to a pilot order" is NOT the same thing as "getting a pilot order."  Would that it were.   This is encouraging, this is exciting, but don't buy the couch just yet.   When HBO actually gives us a pilot order, you will hear me shouting it from the rooftops.   A series order, and I'll be shouting even louder.    But we'll see.   Right now all the signs are good, but nothing is confirmed.
Some websites are suggesting that the news about Ryan's show moving forward means that Jane's show won't.   If that's so, no one has told me.   I don't think it's so.   I love what Ryan has done, but I'm excited about the possibilities for Jane's series as well.  Jane and I had dinner in London (at Rule's, great spot, oldest restaurant in England, Charles Dickens and H.G. Wells ate there, it was a thrill to break bread with their ghosts), and her enthusiasm was palpable.   The world of Ice & Fire is a WORLD, boys and girls.   Huge continents, ten thousand years of history, cities, deserts, oceans, mysteries, triumphs and tragedies.  If there were indeed eight million stories in The Naked City in the 50s, surely there are eight billion stories to be told about Westeros, Essos, Sothoryos, and the lands beyond the Sunset Sea, south of Oz and north of Shangri-La…
And in these days of a hundred networks, channels, and streaming services, I think television has plenty of room for two shows set in Westeros… or hell, maybe three or four… I still want to do SPEARCARRIERS, after all.
Current Mood:

bouncy