The Hugo Awards are the most famous prizes handed out annually at the World Science Fiction Convention… but they are by no means the only ones.   The Hugo ceremonies also include the presentation of two "Not A Hugo" awards, the Lodestar for YA novels and the best new writer award (the John W. Campbell Award from 1973 until last month, subsequently renamed).  In years past the Big Heart Award (which has undergone quite a bit of renaming itself) and the First Fandom Awards were also presented on Hugo night.   In days now long forgotten there was also the Gandalf… and more recently there have been the Retr0-Hugos, though those traditionally have a separate ceremony of their own.
But the rules also allow each year's concom to give a special committee award, if they choose to.   This year, the Dublin concom chose to… and to my surprise and delight, they gave the award to my wife Parris and myself.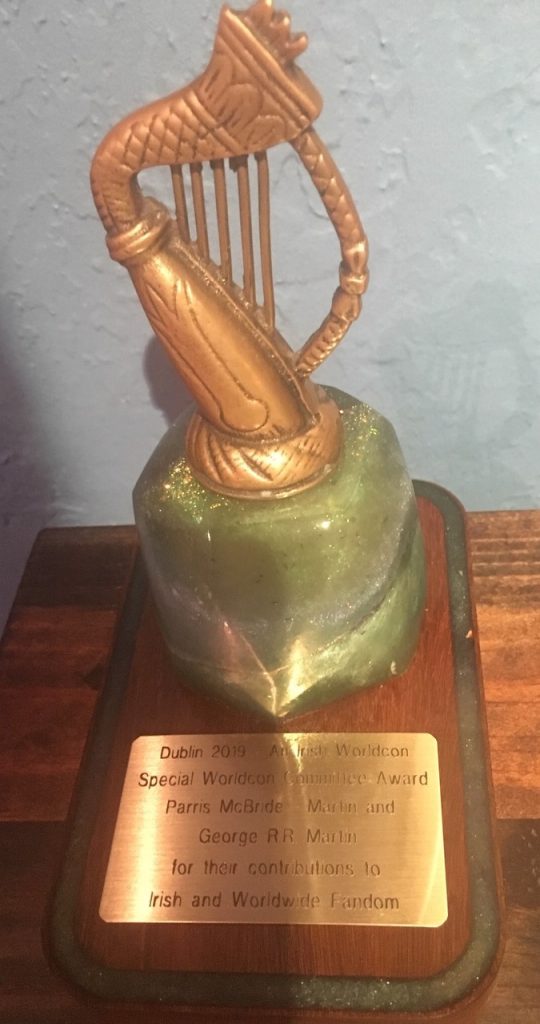 James Bacon presented the award to us at Dublin's closing ceremonies.   We were deeply touched.
In the spirit of the Alfies, the trophy is made from an old automobile hood ornament.   Though I am damned if I know what model car it came from… it is certainly very different from the sleek 50s rockets and jets that we cannibalize for the Alfies.   Makes no matter.   It's cool looking, and we love what it represents.
Parris has often told the story of walking into her first con, the 1974 worldcon in Washington DC, and thinking, "At last, I've found my people."   I started a few years before her, attending my first cons in 1971, but I had the same feeling.
We've both found a family in fandom, a warm and welcoming community that has become a huge part of our lives.  And we both believe in giving back, in paying it forward as RAH once urged us all to do.   Also, we're both descended from Irish immigrants (the Bradys for me, the Moynihans for Parris), so getting this award at an Irish worldcon was especially meaningful.
Thanks, James.  Thanks, Dublin.   Thanks, fandom.
Fandom IS a way of life.
Current Mood:

happy