It's only a week till the release of OLD MARS, the latest anthology from Gardner Dozois and Yours Truly, featuring fifteen brand new, original, never before published tales of the Red Planet of bygone years, the one with the canals and the dead sea bottoms and the lost cities and myriad marvelous Martians.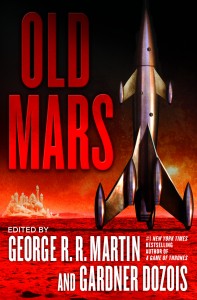 If you'd like a taste, Pat's Fantasy Hotlist has posted an excerpt from Allen Steele's story, "Martian Blood." You can find it here:
http://fantasyhotlist.blogspot.ca/2013/09/extract-from-old-mars-edited-by-george.html
Pat is also giving away three copies of the hardcovers. To see how you can snag one, check out that link above.
The full lineup of stories and authors:
RED PLANET BLUES (Introduction) by George R.R. Martin
MARTIAN BLOOD, by Allen M. Steele
THE UGLY DUCKLING, by Matthew Hughes
THE WRECK OF THE MARS ADVENTURE, by David D. Levine
SWORDS OF ZAR-TU-KAN, by S.M. Stirling
SHOALS, by Mary Rosenblum
IN THE TOMBS OF THE MARTIAN KINGS, by Mike Resnick
OUT OF SCARLIGHT, by Liz Williams
THE DEAD SEA-BOTTOM SCROLLS, by Howard Waldrop
A MAN WITHOUT HONOR, by James S.A. Corey
WRITTEN IN DUST, by Melinda Snodgrass
THE LOST CANAL, by Michael Moorcock
THE SUNSTONE, by Phyllis Eisenstein
KING OF THE CHEAP ROMANCE, by Joe R. Lansdale
MARINER, by Chris Roberson
THE QUEEN OF NIGHT'S ARIA, by Ian McDonald
You can preorder a copy from Amazon at
http://www.amazon.com/Old-Mars-George-R-R-Martin/dp/0345537270/ref=sr_1_1?s=books&ie=UTF8&qid=1380639121&sr=1-1
or grab one next Tuesday from your favorite local bookseller.
Current Mood:
null