Last week I made a quick two-day visit to Los Angeles to attend the 2013 Media Access Awards at the Beverly Hilton, where I was pleased and proud to accept the 2013 "Visionary Award" on behalf of GAME OF THRONES.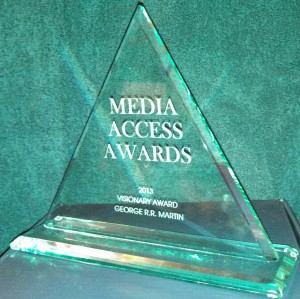 The Media Access Awards honor films and television programs that champion disability as a feature of humanity — and as a component of great storytelling. In recent years, this industry-wide, multi-guild celebration has spotlighted talents including Breaking Bad creator Vince Gilligan, the casting office of Glee, actor Marlee Matlin, The Sessions writer-director Ben Lewin, and others who have continued to support and encourage the intersection of disability and visibility in media.
David Radcliff, of the Writers With Disabilities Committee of the Writers Guild of America, West, wrote to inform me of this honor, saying, "Game of Thrones seems a natural fit for this recognition. Since its earliest episodes, your gripping series has introduced us to a paralyzed boy with a supernatural gift, has endeared us to a Little Person defined not by his height but by his wit, and has regularly mined the lives of "cripples, bastards, and broken things" to celebrate their strengths and complexities. In fact, it is a fantastic credit to your work that Game of Thrones is not commonly thought of as a show that "deals with" disability — it is something even better: a show that embraces the reality that no one is easily definable."
The award was presented at a breakfast at the Beverly Hilton. It was a great event. Paul Chitlik, an old colleague of mine from my days on THE TWILIGHT ZONE, presented the award to me, and I had the chance to meet some terrific actors, writers, and directors.
For more about the awards, and a full list of this year's honorees, see:
http://mediaaccessawards.com/
This is one I am very proud of… but really, though it may be my name on the award, David Benioff, Dan Weiss, Brian Cogman, our amazing cast and crew, and our incredible directors won this just as much as I did. Would that all of them could have been there. And none of this would have possible without the support of HBO.
Thanks, all.
Current Mood:
null