Tonight's the night: Felicia Day's wildly popular webseries THE GUILD begins its four-day marathon at the Jean Cocteau in Santa Fe.
.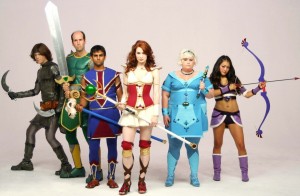 We've changed the screening schedule a bit since I first announced this event, downstream.
Seasons one and two will be shown tonight (Monday, Oct 21), starting at 6:20.
Season three is on tomorrow (Tuesday, Oct 22).
Season four will be screened on Wednesday (October 23).
And we wind up on Thursday (October 24) with seasons five and six.
Admission to each show will be ten bucks, same as an ordinary movie. (The usual discounts apply). But we're also offering a $30 ticket for all four nights.
Best of all, after each showing, members of the Guild cast will be visiting with us via Skype… from Hollywood, Fantasyland, the Game, or wherever they may be. Felicia Day herself will be joining us on Thursday.
Current Mood:
null