LOCUS has announced the shortlist for its annual awards, and I'm pleased to report that SONGS OF THE DYING EARTH, the Jack Vance tribute anthology I co-edited with Gardner Dozois, has been nominated in the Best Anthology category.
((Three of the five nominees in Best Anthology were edited or co-edited by Gardner, who is also up himself in the Best Editor category. Despite which, he is convinced he is going to lose both awards. That's why we call him Eeyore.))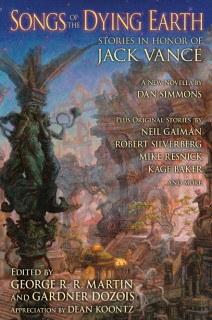 Neil Gaimain's story for SONGS OF THE DYING EARTH is also a finalist, in Best Short Story, and Vance's autobiography has been nominated in Best Related Book.
For the full list, check here: http://www.locusmag.com/News/2010/04/locus-awards-finalists.html
Current Mood:
null