Back home again, and once more buried. I was only gone for four days. How the hell does so much mail and email pile up IN FOUR F*CKING DAYS, I ask you?? It makes me dread what will await me when I return from the much, much longer trip to the Australian worldcon this fall.
Could be worse, I suppose. I could be somewhere in Northern Europe, sleeping in an airport while I waited for air travel to resume. One wonders what will happen if this volcano keeps spewing ash… not for days or even months, but for years. It has done so before, I am told. Try to imagine a long-term shutdown of all air traffic over the British Isles. Time to invest in steamship lines?
Air traffic in and out of Chicago was unaffected, thankfully, and I had a good time at C2E2. Comicons are very different beasts than the SF cons that I usally attend — much larger, but less social, with the main activity revolving around the dealer's room rather than the room parties that are the heart of worldcon, etc — but still fun. Mostly I sat at the Avatar booth, signing books and comic books. The first issue of FEVRE DREAM was released there, with not one, not two, not three, not four, but FIVE variant covers.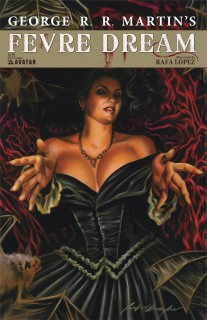 There were plenty of readers and fans on hand, more than enough to keep my signing hand limber, but not so many that I could not spare the time to visit with people as they came up. It's always nice to have a few moments to chat, something the really large shows (that's another difference between comicons and SF cons, comicons are "shows" and SF cons are "cons") and booksignings do not allow. Also got to meet and hang some with some of Avatar's other stalwarts, including artists Jacen Burrows and Mike Wolfer and writers Garth Ennis and Max Brooks. Cool.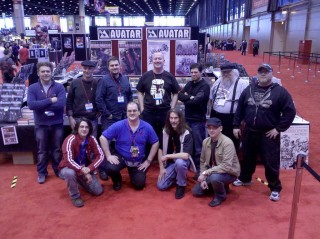 In between my panels, my reading, and hours and hours of signing, I found the time to devour a couple of great steaks (Chicago is a great steak town) and sample some not-so-great deep dish pizza (Chicago is a crap pizza town, with delusions of grandeur). Every few years, when visiting Chitown, I do try a deep dish, just to make certain it is still as "meh" as I remember. This time the pizza was from Lou Malnati's, supposedly one of the good joints. It was… filling. Not bad. But not pizza.
Sunday night I went to Greektown with a group of stalwarts from the BWB. Mary Anne Mohanraj joined us there as well. She's one of the Class of 2009 new recruits for Wild Cards, and an up-and-coming writer in her own right; it was great to finally meet her face to face, and of course it's always fun to hang with Kate and Treb (Dallas Cowboys scum though he is) and the rest of the Bros. Opaa! Opaa!
Lots of news and developments on the funny book front. FEVRE DREAM debuted at the con, as I said. That miniseries will run to ten issues, then be collected as a graphic novel. Art by Rafa Lopez of Malaga, Spain, adaptation by Daniel Abraham.
A sample can be found here:
http://www.bleedingcool.com/2010/04/13/avatar-plug-of-the-week-george-r-r-martins-fevre-dream-1/
Avatar has two more series based on my work in the works as well. There's IN THE HOUSE OF THE WORM, based on my novella of the same title. Adaptation by John Jos. Miller, art by Ivan Rodriguez. A four-issue miniseries, the art for which is half-finished. I saw the pages for the first two issues at the con, and thought they looked spectacular. Also coming… eventually… is a comic book version of my werewolf novella, THE SKIN TRADE. Daniel Abraham did the script for that one too. Unfortunately, we just lost the third (!) artist to have been assigned to the project (he failed to turn in any actual work), so we're now back to square one. But Avatar will find someone great eventually, I have no doubt.
Meanwhile, IDW Comics decided that C2E2 was the place to break the news about the comic I will be doing with them: a graphic adaptation of DOORWAYS, the alternate world show that I wrote and produced for ABC Television back in 1992-93. We're starting with the pilot, but if the sales are good enough, there's no reason we couldn't continue and do the unproduced back-up scripts as well, and then maybe some originals. The series was designed to be open-ended, and the comic will be as well. Still very early on this one, so we don't have an artist to announce as yet, but IDW promises me we'll attach someone great soon. I'm especially pleased to get this one going, so the wider world will finally get to meet Cat and Tom and share some of the adventures I had planned for them. There's nothing as frustrating as working for close on two years on a project no one ever gets to see (well, the bloated two-hour version of DOORWAYS was released on videotape way back when, so a few people got to see it, but the comic will be based on my script, not the episode as filmed [in other words, the characters will not look like the actors, the SFX will be much better, the costume and set design and other visuals should be better, etc]).
(And before some of the Ice & Fire purists out there get their panties in a twist, please note, all my writing on DOORWAYS was done in 1992 and 1993, the ball will now be in the hand of IDW Comics and the artist they select, this project will NOT take any writing time away from A DANCE WITH DRAGONS or subsequent Ice & Fire novels, even if it runs for ten years).
C2E2 also included lots of talk about adaptating Ice & Fire itself to graphic novel form. I have a half dozen different comics publishers actively pursuing those rights, and I took meetings with most of them during the weekend. No decision, but I listened. I may or may not sign on for this… still undecided at this point… but I gather some formal proposals may soon be forthcoming, so I will at least consider those. If we do authorize a comic series or graphic novels, it will be based on the novels, NOT on the HBO television series. That's a separation of rights issue.
I also had a great lunch with Mo Ryan of the CHICAGO TRIBUNE. We ate at Berghoff's in the Loop, a real Old Chicago sort of place, and a former haunt of mine (once a month or so, when I could afford it) from the days when I was a VISTA volunteer attached to the Cook County Legal Assistance Foundation, and working in the Loop. I could tell you what we talked about, but then I'd have to kill you…
Current Mood:
null