Well, another NFL draft has come and gone.
I liked the new three-day format, with the first round and the second/third being telecast in prime time on Thursday and Friday respectively. The days did not seem quite so endless, and the break between round one and round two allowed for more wheeling and dealing. The first night actually drew higher ratings than the NBA playoff games being broadcast that same night, which just goes to demonstrate the respective popularity of football and basketball in the United States.
Who would ever have guessed that what began seventy-five years ago as a bunch of fat old men getting together in a hotel ballroom with a stack of magazines about college football and a lot of index cards would one day become a three-day sporting extravaganza watched in real time by millions of people? And really, under the glitz, it's STILL just a bunch of fat old men with index cards… though with the new format, now at least something actually happens every ten minutes, instead of fifteen as previously.
My general impressions. The Seattle Seahawks had the best overall draft. Good picks, and they made some good trades too, including picking up Leon Washington from the Jets. If Leon comes back strong from his broken leg, he'll be a real asset there. The Oakland Raiders also did surprisingly well. (How did that happen? Does someone have Al Davis tied up in a cellar somewhere?) Not only did they snatch Rolando McClain away from my G-Men, damn them, but they traded a late round pick next season for Jason Campbell… who may have been the worst QB in the NFC East last season, but still represents a huge upgrade over JaMarcus "I Complete Forty Per Cent of My Passes" Russell. The Raiders could be dangerous this year; they already had a good defense, and they made it better. With some decent QB play, who knows?
Dallas got the highest-rated WR in the draft. Made me grind my teeth. Philadelphia went for quantity, kept trading down for picks. One was Mike Kafka, the QB from my alma mater, Northwestern. I like to see Wildcats make good in the NFL (it happens so seldom), but did it have to be the Iggles? Odds are, some of these picks will turn out to be good, which means Philadelphia likely improved themselves. But I think they will miss Donovan McNabb before the year is out. Eagles fans are excited about Kevin Kolb, based on his performance standing in for McNabb last season, but two games does not a career make. Right now, Philly has the weakest QB in the NFL East, and that will bite them on the ass eventually.
Evil Little Bill seemed to have thirty-four picks as well. Thirty-two of them were tight ends. BB must be planning a new offensive scheme; Tom Brady and ten tight ends.
And how did my teams do? Glad you asked.
The Giants had their usual boring draft. They were slotted in as #15, and that's where they drafted, every round. No moving up, no moving down, no trades, they just sat where they were and picked a player when the pick got round to them. The big excitement was having Mark Bavaro announce one pick for them.
The G-Men went into this draft desperately needing linebackers. Especially a middle LB, since they released Antonio Pierce. But the Raiders snatched away Rolando McClain, the LB they were really high on, so they went another way in round one. In round two, everyone expected they would pick Sean Lee or Brandon Spikes, both of whom were still available when they chose, but I guess those guys did not impress them. So as it turned out they did not get a LB until the third day, when they picked Phyllis Diller… er… Phillip Dillard. I found him in my draft magazines, but just barely. Hope to hell he's good.
Last year the Giants did not get as many sacks as they had in previous years, true… but even so, the strength of Big Blue's defense has been its defensive ends, a trio relentless pass rushers as good as any in the league — Osi Umenyiora, Justin Tuck, and Matthias Kiwanuka. So who did they pick in round one? Another pass rusher.
A phenom named Jason Pierre-Paul who has supposedly been sensational in all seven of the college games he's started. Also, he can do this:
<lj-embed id="51″/>
I guess the Giants new defensive coordinator is planning to install a radical new pass rush wherein the ends backflip over the offensive linemen to get to the QB.
But seriously, boys and girls… Pierre-Paul does appear to be an amazing athlete, but his lack of actual game experience worries me. My teams have drafted combine heroes before, most recently the Jets with Vernon Ghloston only two years ago, and we know how THAT turned out.
In later rounds, the Giants drafted a huge defensive tackle named Joseph (who I hope turns out better than the last huge defensive tackle named Joseph that we drafted), a tall rangy safety, that previously-mentioned linebacker, a "sleeper" linebacker from William & Mary who wasn't even mentioned in any of my draft magazines, an offensive guard who is said to be a real mauler and nasty run-blocker (a bookend to Chris Snee, I hope)… and a punter. I guess that means Jeff Feagles is really going to retire. He is older than I am, after all. I will hate to see Feagles go, though admittedly his punting did fall off badly last year. He's still the best there is at punting from midfield, where he excels at dropping the ball on the opposition's three-yard line. But when the Giants were pinned inside their own twenty and needed a huge booming distance punt to get 'em out of trouble… well, that's where his age showed. If this Dodge kid is half the punter Jeff was, I'll be happy.
All in all, a very unglamorous draft. No "sexy" picks. A punter, an offensive lineman, and five defensive players. I doubt any of the draft gurus will rate this draft highly — but given the way the Giants' defense collapsed last year, it may have been just what we needed.
Tom Coughlin hates to give up points, and so do I.
(I still wish we had gotten McClain, though).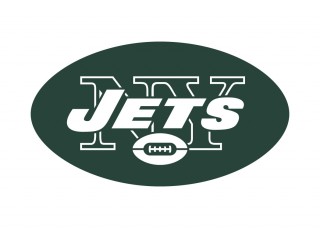 The Jets, as usual, did things differently.
They'd already traded away several choices before the draft began, and they traded away a couple of more today, so they ended up with only four choices.
And not choices I ever would have expected.
Last season Gang Green had the top pass defense in the NFL. It could have been even better with a real stud defensive end sack artist rushing the opposing QB, so I figured that would be what the Jets would go after. But no. Instead they used their first round pick on another cornerback, a kid named Kyle Wilson from Boise State. He looks to be a good one, though. Teamed with Darrelle Revis and Antonio Cromartie, he should give the Jets the best corner trio in the NFL. I don't think Rex wants ANY passes completed against us this year. From now on, he brings nine on every play. But hey, if Wilson is as good as advertised, maybe he'll be able to shut down Wes Welker, who has been killing us every time the Jets play the Patriots. Welker, and the AFC championship game against the Colts, explains why Rex drafted him, I think.
Second round the Jets picked a huge Haitian kid named Vladimir Ducasse to play on the offensive line. Guard to start, I guess, maybe eventually right tackle. He's gigantic and very talented, it's said, but raw… but he'll be competing for a starting spot right off, since the Jets have just released Alan Faneca, their big free-agent acquisition from a couple years ago. Faneca is still a hell of a run blocker, and was a major contributor to Gang Green's league-leading rushing attack last season, but he was a liability in pass protection, and gave up way too many sacks. Plugging in a raw kid like Young Vladimir in his place is kind of a risk, even so. In the long run, probably a good move, if Ducasse is as gifted as advertised. In the short run, I hope this doesn't get Mark Sanchez killed.
The Jets weren't supposed to pick again until the end of the fourth round… but they traded up into the middle of the fourth to nab Joe McKnight, a running back out of USC. Quick, elusive, shifty, good at catching passes out of the backfield. The choice puzzled the hell out of me, however. "Wait a minute," I said. "We already have a quick, elusive, shifty RB who is good at catching passes out of the backfield. We have Leon Washington. What do we need this Joe guy for?"
My question was answered a round later, when the Jets traded Leon Washington and a seventh round pick (their last of the day) to Seattle for their fifth-round pick, so they could choose a huge pile-driver of a fullback named John Connor. (Nicknamed, yes, you guessed it, 'The Terminator'). Kewl. Not many NFL teams use blocking fullbacks any more, but the Giants and Jets are two that do, and I love them. The Jets already have a great blocking fullback in Tony Richardson, but he's almost as old as Jeff Feagles, so I guess John Connor will be his eventual replacement. Must admit, I love the idea of having a Terminator on my team… and there's some suggestion that Connor might be more of a Mike Alstott type, capable of running the ball as well as blocking. If so, I really like this pick.
That being said, this Jets draft seems more geared for the long term than for the immediate future. Terminator is a new, younger Tony, but unproven. Vladimir is a new, younger Alan Faneca, only unproven. McKnight is a new, younger Leon Washington, one who hasn't recently suffered a compound fracture of his leg… but still, unproven. The Jets get younger, but do they get better? The only pick that seems likely to provide immediate impact is that first-rounded cornerback from Boise State.
And of course the Jets did nothing at all to bolster their pass rush, which remains the most conspicous lack on Rex Ryan's defense. Could it be they still hold out hope for Gholston?
Current Mood:
null