I got an email from a reader who wanted to know if there was a site out there where the Wild Cards books were being discussed and debated the way the Ice & Fire books are on the Westeros board. The short answer, alas, is "no." There is no 'Wild Card Westeros.'
There are a half-dozen different sites where the books have been discussed. The liveliest of them is Captain Comics, at http://www.captaincomics.us/forums/index.php?board=35.0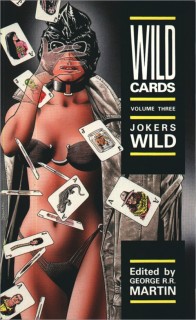 There is also Tor's official Wild Cards site at http://www.wildcardsbooks.com . No message boards there, but plenty of bios, author interviews, special "outtatkes" and exclusive content, even some links to old Wild Cards panels at worldcons past.
And last but not least, there's the wonderful UK fan site Wild Cards OnLine, with a wealth of detail about the books and characters. That one can be found at http://www.wildcardsonline.com/
All of them are well worth checking out.
Current Mood:
null