HOUSE OF THE DRAGON has a great pair of showrunners in Ryan Condal and Miguel Sapochnik.
And it has an amazing cast as well.   You've been reading about them for months.  Matt Smith, Emma d'Arcy, Milly Alcock, Olivia Cooke, Paddy Considine, Emily Carey, Rhys Ifans, Steve Touissant, Fabien Frankel, and more, and more.   You may not know their names now, but I think you will before the year ends.  You will hate some of them, love some of them, mourn for some of them.
There's another group of contributors, equally important, whose names you may not know either.   But you should.  Without them , there would be no show.   If there was, it would certainly not be as good as I think HOUSE is going to be.   Here are the folks I am talking about: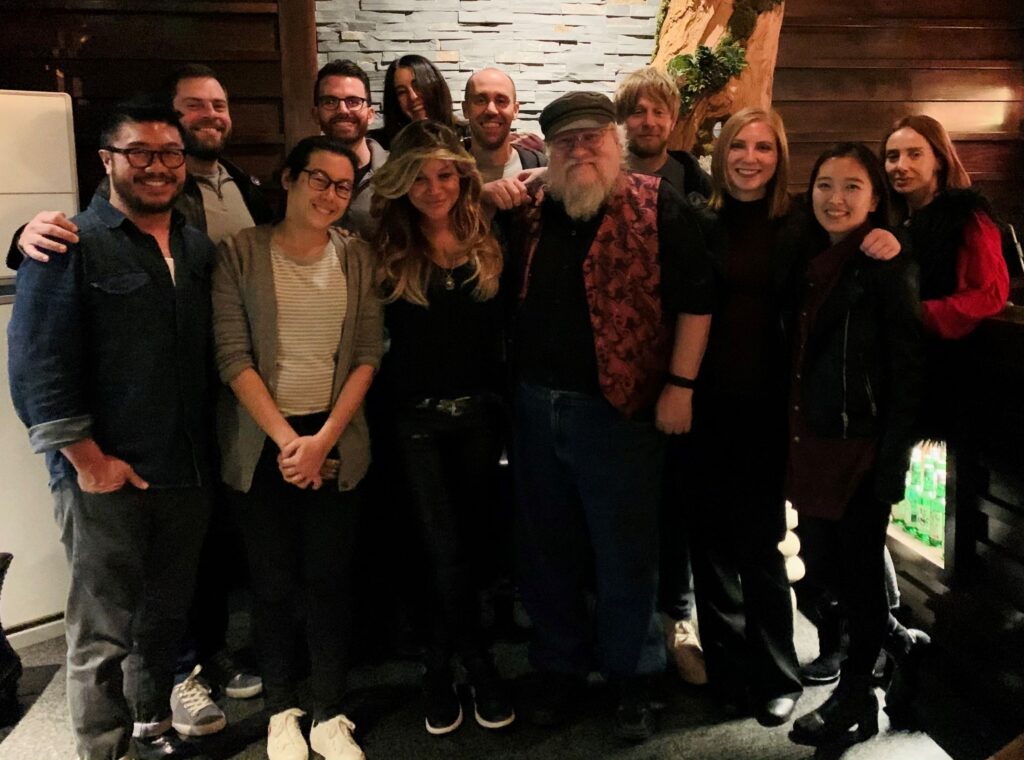 Yes… it's the writers.  
HOUSE OF THE DRAGON is based on my novellas "The Princess and the Queen" and "The Rogue Prince," and other materials from my Targaryen history FIRE & BLOOD… but FIRE & BLOOD is an imaginary history, not a traditional novel.   To turn it into a television series requires a lot more work than adapting a novel or short story.   The scriptwriters need to make history come alive.
Ryan Condal assembled a pretty amazing team to do just that.    The photograph above was taken during one of my visits to LA — the last, I think, before Covid descended on us all, and shut down my travels — when I sat down with Ryan and his writers for dinner.  It was a big loud lively dinner at a long table, but the food was great and the company was greater.   I loved talking dragons with the team, and I was impressed with the depth of their knowledge of my world, and their enthusiasm for the project.
The first season of HOUSE is now wrapped, and in large part thanks to the talents of our scribes.  So please raise your glasses and toast our writers:  Sara Hess, Gabe Fonseca, Ira Parker, Ti Mikkel, Charmaine DeGrate, Kevin Lau, and Eileen Shim.   And of course Ryan Condal himself, the ringmaster and dragon tamer.   Oh, and though they are not in the picture, I should also salute Claire Kiechel and Wes Tooke, who joined Ryan and Ti in the mini writer's room that preceded this one, before there was even a pick up.
(And me, you ask?  No, I did not write a script for the first season of HOUSE… part of me would have loved to, but I have been kind of busy with WINDS OF WINTER, the other THRONES successor shows, various WILD CARDS books, the WILD CARDS tv pilot for Peacock and UCP, DARK WINDS for AMC, ROADMARKS for HBO, NIGHT OF THE COOTERS and a couple other really cool Howard Waldrop projects, and… well, yeah, okay, I bought a railroad, never mind.   I did co-create the series with Ryan and help give it its shape, and he and I have been in constant contact ever since).
Hollywood is a land of change, and writers are always moving around in today's television landscape.   Some of the folks in the photo above moved on to other shows and other networks before season one of HOUSE even began to film.   Others have been with us all the way through the first season, and will be returning for season two (if indeed HBO gives us a season two, cross your fingers).   But all of them played a part.
So here's to the writers!   Huzzah!
Current Mood:

pleased