It was back in 2015, I seem to recall, that my friends Robert Redford and Chris Eyre brought me into their dream project, to help develop and sell a television series based on Tony Hillerman's novels about Navajo tribal policemen Joe Leaphorn and Jim Chee.   It took us quite a few years, with many an up and down along the way, but I am pleased to announce that DARK WINDS is finally done… almost.
AMC will be screening the first season later this year.   Six episodes long, the story is adapated from the Leaphorn novel LISTENING WOMAN,  with additional material from later novels.   The show was filmed in and around Santa Fe, adjacent tribal lands, and the Camel Rock Casino.   I've seen rough cuts of all six episodes, and I'm very pleased by what I'm seeing.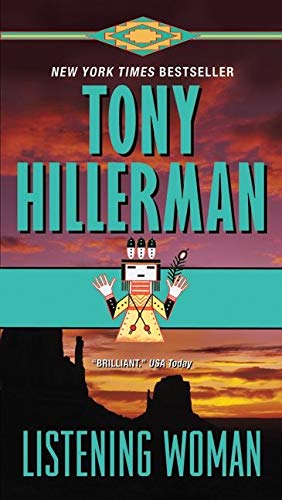 I wish I could share the trailer with you, but I can't… not yet.   They are still working on it.   But soon, soon.   AMC did a panel (virtual) and presentation on the show at the recent TCA meeting (that's the Television Critics Association), and they tell me it was very well received.
AMC has not set a date for the DARK WINDS premiere either, but most likely it will be sometime this spring or summer.   You'll know when I do.  (If I can ever get up to date on this blog).
The pilot was written by Graham Roland and directed by Chris Eyre, and will star Zahn McClarnon as Joe Leaphorn, all of them also EPs on the show… and Native Americans.   Robert Redford and I are Executive Producers as well.  DARK WINDS will also star Native Americans Kiowa Gordon as Jim Chee, Jessice Matten as Bernadette Manuelito, and Deanna Allison as Emma Leaphorn, as well as Rainn Wilson and Noah Emmerich.
Tony wrote eighteen novels about Leaphorn and Chee and his daughter Anne has continued the series since his passing, so there is a wealth of material available to us, and our dream is to continue DARK WINDS for many more seasons.   But of course that will depend on how this first season does…
While you're waiting for the show to premiere, pick up a Tony Hillerman novel.   They're terrific.
Current Mood:

pleased