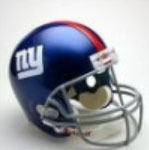 It is always good to see the Giants win one… though the season's record is 3-6 even after Sunday's upset victory.
Still, still, most commentators gave Big Blue no chance against the Los Angeles… er, Oakland… er, Las Vegas Raiders, the high-flying silver-and-black leaders of the AFC West.   It was nice to prove the talking heads wrong.
Credit for the win really belongs to the defense.   The Raiders outgained the Giants by a considerable margin, but time and time again the Gmen stiffened inside the red zone and forced Carr and company to settle for field goals in place of touchdowns.   In the end, that made all the difference.   A couple of key interceptions and a forced fumble and recovery at game's end helped a lot as well.
Daniel Jones played an okay game, but most of the Giants offense came from the run.   That was especially encouraging since Saquon Barclay was still out, a positive test for covid coming in on top of his ankle woes.
Whether this represents any kind of positive omen for the rest of the season is hard to say, but it really doesn't matter much.   This season is pretty well gone already.   But a hard-fought victory that comes down to the final seconds… that does put me in a considerably better mood.
Let us just say… life is full of ups and downs.