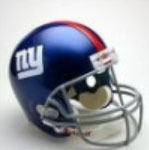 Well, this Sunday was somewhat better.
The Giants won one, at least, defeating the Panthers and Sam Darnold… who got benched before the game was over.  Maybe the Jets did the right thing letting him walk after all.   The final score was pretty lop-sided, but only because Big Blue came on hard in the fourth quarter.   For most of the game it was 5-3.   Yes, really.   Daniel Jones looked good… as a receiver as well as a quarterback… but the win really belongs to the defense.   Let's hope they can do it again.  (Though next week could be MUCH harder).
As for the Jets game, the less said, the letter.   Not a defeat, a humiliation.   Our kid QB looked awful, and then he got hurt.   Now he's out two to four weeks.   Mike White, the guy who came off the bench, had never played in a regular season game before, but he threw a touchdown with his first pass.   All in all, he actually looked better than Zack Wilson.   Which did not help much, since the Pats were scoring every time they touched the ball.   I see that the Jets just traded for Joe Flacco today.   Whether to back up White or to replace him, I am not sure.   Was Flacco the best option, though?   They could have signed Cam Newton off the street, no draft choices required.
Guess we will find out.
Right now, looks like the Jets will be picking second in the 2022 draft.   Maybe first, if the Lions ever win a game.
Life is… well, mostly wretched, but once every few Sundays they let you win one.
Current Mood:

discontent