I had a pretty nice birthday.   And thanks to all my fans and friends who sent me greetings by email, text, or (in one case) card.
Parris came up to the mountains to visit me in my fortress of solitude, the first time she has checked out the cabin, and I was thrilled and delighted to be able to spend some time with her.   She brought me a wondrous present, a  wolf from the same Santa Fe artist who made my ravens.   I will need to take a picture and post it here.  He's marvelous.   My thanks to Dahlia, her right hand and assistant, for helping her make the trip.
My assistant Sid, who is an incredible baker (she owned her own coffee and pastry shop when she was only eighteen, before coming to work for me) baked us a birthday cake from scratch, a gorgeous… and delicious… red velvet cake with cream cheese icing.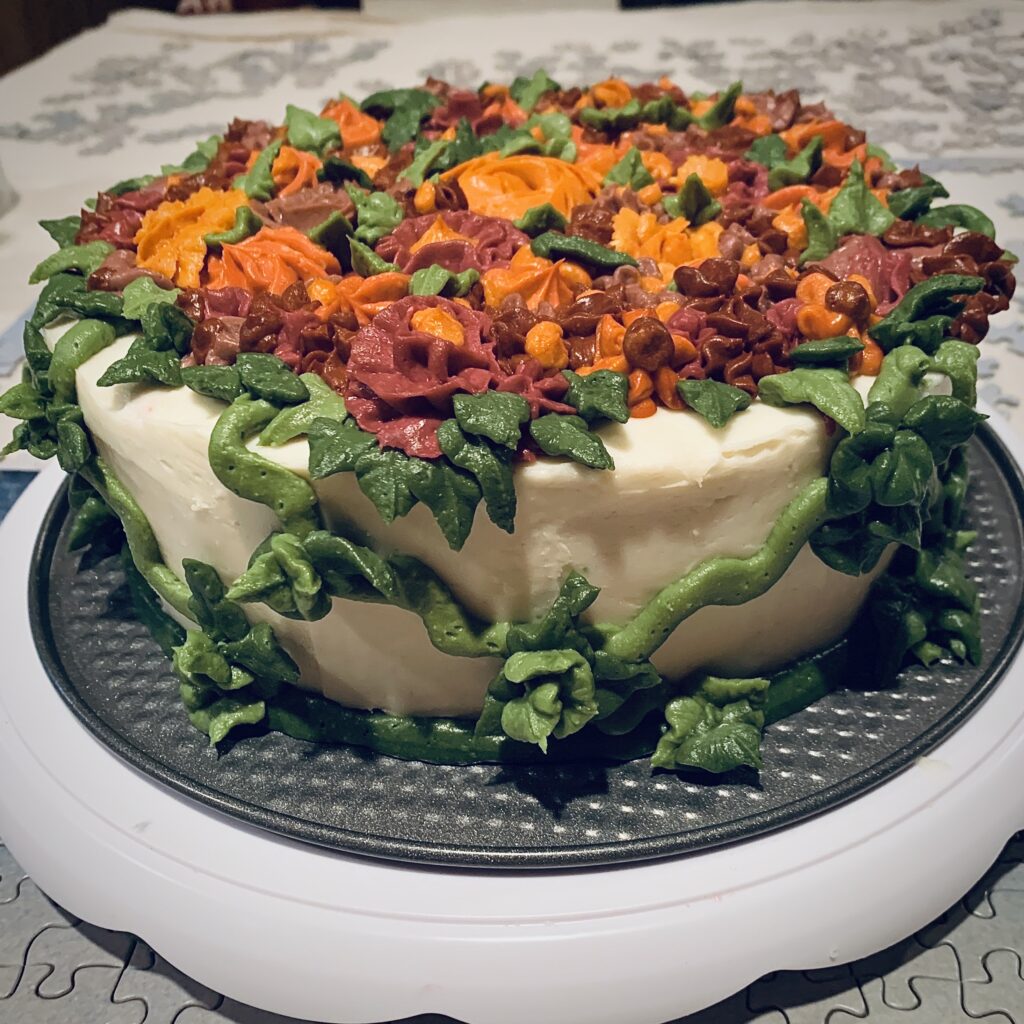 I got several other nice gifts as well, among them some amazing old vinyl albums, including old Flash Gordon and Buck Rogers radio dramas, and an album of JFK's speeches.   Which is uplifting and depressing at the same time, when one contemplates how far we have fallen.   My thanks to my friend Ti Mikkel for the thoughtful present.
Come evening, we watched the Emmy Awards.   A very strange Emmy night.   Jimmy Kimmel did a nice job hosting, playing to an empty auditorium, and I got a hoot out of the big robo-boxes that John Oliver and a few others received, with a big hand that burst out clutching an Emmy when the winner was announced.   Congratulations to all of this year's winners…. and to the losers.    I have lost quite a few myself, I will always have a soft spot in my heart for the bridesmaids… whether Emmy losers or Hugo losers.   It IS an honor just to be nominated.
In addition to the pandemic-inspired weirdness, it also felt odd for me personally.   For ten of the past eleven years, I have attended the Emmy Awards in LA… including last year, when GAME OF THRONES won its fourth for Best Drama.   But I have to say, it was much more relaxing to be watching from home.   The big Hollywood awards ceremonies are exciting, beyond a doubt, but they are also very stressful… and exhausting, especially for an old codger like me.
And there is no doubt, I am an old codger.   As of the 20th, I turned 72.   Damn.   When did THAT happen?   The years have gone by so quickly, it seems.  Inside I certainly do not feel 72.  Hell, scratch me and that kid who wrote those letters to Stan & Jack and stories for dittoed comics fanzines is right below the surface.   Truth be told, birthdays tend to depress me these days.   And this year… ancient as I may be, there is no doubt that 2020 is the worst year I have ever lived through (I never thought any year could be as bad as 1968, till now)… I think the occasion might really have gotten to me, if not for that fact I was surrounded by friends and loved ones.   Thanks to them, I did have a happy birthday.
Current Mood:

happy