THIS MESSAGE HAS BEEN BROUGHT TO YOU BY THE MINIONS OF FEVRE RIVER
Good News New Yorkers, last week our friends over at Penguin Random House in conjunction with NYC Subway Transit Wireless rolled out a new program to help ease boredom during your commute.
And here it is, a shiny new link to SUBWAY READS
On Sunday, Subway Reads started delivering novellas, short stories or excerpts from full-length books to passengers' cellphones or tablets.
The idea is for riders to download a short story or a chapter and read it on the train. Subway Reads will even let riders choose what to read based on how long they will be on the subway — a 10-page selection for a 10-minute ride, a 20-page selection for a 20-minute excursion, a 30-page selection for a 30-minute trip. Delays not included.
And one of the top stories available now to read is GRRM'S chilling horror tale SANDKINGS.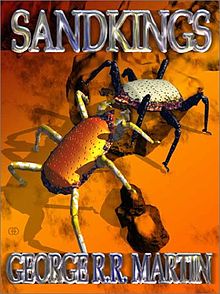 And here is the LINK leading to the Free Transit Wireless Wifi station map for availability in your area.
Happy Reading!
THIS MESSAGE HAS BEEN BROUGHT TO YOU BY THE MINIONS OF FEVRE RIVER