… later that same night.
As previously announced here (see below), John will be coming to the Jean Cocteau to perform his stand-up show I STOLE YOUR DAD, "presenting new observations on subjects including how to dress like a young and relevant person, fax machines and other obsolete technology, marihuana and Downton Abbey, the state songs of Tennessee, the film criticism of Ayn Rand, and how to spend your time when the world did not end like you were certain it would on December 21st of last year."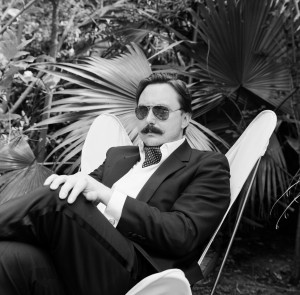 John's appearance is scheduled for 7:00 pm on Monday, June 2… but though the show is still six weeks away, we've had such a demand for tickets that we're almost sold out. The Cocteau, please recall, has only 125 seats. As of this morning, we had sold 108 tickets. We expect the last few to be gone by week's end.
So it thrills me to announce that John Hodgman has agreed to do a second show for all his fans in Santa Fe. The second show will also be on Monday, June 2, but starting at 9:00 pm. Tickets to the late show will be available from the Cocteau website http://www.jeancocteaucinema.com/ starting today. You can also call the theatre at 505-466-5528 or drop by the box office in person.
If you want to snag one of those last dozen or so tickets to the 7:00pm show, I'd advise you to act ASAP. Meanwhile, for the night owls and those shut out of the early show, we now have the 9:00pm performance. Admission is $20, with discounts for students and seniors.
John Hodgman is an author and performer best known as the "Resident Expert" on The Daily Show with Jon Stewart, his COMPLETE WORLD KNOWLEDGE trilogy, and for his podcast and New York Times Magazine column, Judge John Hodgman.
See you at the show.
Current Mood:
null