My Brazilian publisher LeYa is moving like lightning in their plans to bring the entire Wild Cards saga to my fans in Brazil (and Roger Zelazny's fans and Howard Waldrop's fans and Carrie Vaughn's fans and Daniel Abraham's fans and Walter Jon Williams's fans and the fans of the other thirty-odd writers who have been and continue to be a part of Wild Cards).
LeYa has hired the amazing Marc Simonetti to paint the covers for their editions. Marc's work is well known to my Ice & Fire readers, of course, since he did this year's official Ice & Fire calendar.
Here's the cover of the first volume of the Brazilian WILD CARDS, featuring Jack Braun, aka Golden Boy, the strongest man in the Wild Cards universe.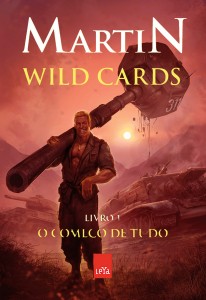 I've seen Marc's roughs for the covers of ACES HIGH and JOKERS WILD, and those are pretty cool as well.
Here's a fun addendum. Marc has uploaded of video of the process of bringing Golden Boy to life:
http://www.youtube.com/watch?v=jeWdRyXXf18
Current Mood:
null