GAME OF THRONES will be taking on The Doctor this year in the Hugos… and FRINGE as well.
LoneStarCon 3 just announced this year's Hugo nominations. "Blackwater," the ninth episode of the second season, has been nominated in Best Dramatic Presentation – Short Form. That was the episode with the wildfire and the big battle, I am sure you all recall, written by yours truly (with considerable help from showrunners David Benioff and D.B. Weiss, who added one of the shows's best original scenes) and directed by Neil Marshall. We'll be up against an episode of FRINGE, and no less than three episodes of DOCTOR WHO, which has owned the Short Form category for most of the past decade.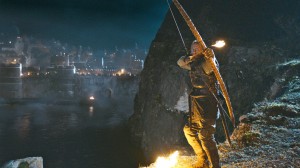 The full list of nominees can be found at:
http://www.lonestarcon3.org/hugo-awards/index.shtml
The Short Form finalists:
Doctor Who:"The Angels Take Manhattan" Written by Steven Moffat, Directed by Nick Hurran (BBC Wales)
Doctor Who:"Asylum of the Daleks" Written by Steven Moffat; Directed by Nick Hurran (BBC Wales)
Doctor Who:"The Snowmen" Written by Steven Moffat, Directed by Saul Metzstein (BBC Wales)
Fringe:"Letters of Transit" Written by J.J. Abrams, Alex Kurtzman, Roberto Orci, Akiva Goldsman, J.H.Wyman, Jeff Pinkner. Directed by Joe Chappelle (Fox)
Game of Thrones:"Blackwater" Written by George R.R. Martin, Directed by Neil Marshall. Created by David Benioff and D.B. Weiss (HBO)
Thanks to all those who sent in nominations, whether you nominated us, or someone else. As I have said time and time again, the nominations are in many ways the most crucial part of the process.
Should be an interesting contest. I haven't seen any of the last season of DR. WHO, so I don't know which of those episodes is the strongest contender… but the Whofans are many and formidable, so I figure we are rather a long shot to upset the Doctor's applecart. I know even less about FRINGE. But hey, you pays your money and you takes your pick, and the Hugos fall where they may.
Congratulations to all the other nominees, and my thanks to David, Dan, Bryan, Neil, and all the rest of the great cast and crew who make HBO's GAME OF THRONES the hit it is.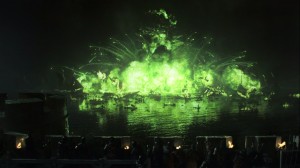 Current Mood:
null